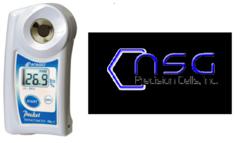 ...a new brix refractometer line that blows away the competition
Farmingdale, New York (PRWEB) November 28, 2012
Atago and NSG Precision Cells have teamed up again to offer a new brix refractometer line for customers on its online store. With an established reputation in consistently producing the highest-quality refractometers and polarimeters, Atago has long been a name on which customers can rely. Combine this with NSG's ability to provide unsurpassed quality and customer service and the result is a new brix refractometer line that blows away the competition.
What is a brix refractometer? To understand this, we should first discuss the meaning of brix. Brix is the sugar content in an aqueous solution where one degree of brix represents a single gram of sucrose dissolved in 100 grams of solution. This is expressed as a percentage by weight. The ºBx is the brix reading and will appear either as a digital readout or as a darkened line on your brix refractometer depending on whether you are using a digital or analog model. Typically, a brix refractometer is used for measuring the sucrose density in honey, milk, sugar, wine and others.
This month, NSG is rolling out its newly available series of brix refractometers, which include the Digital Hand-Held Pocket Series, the Master Series, Milk and Wine refractometers. The digital hand-held line consists of the most convenient models to date, which can be used for a wide range of applications and can measure as high as 93% ºBx. Simply place a sample on the lens and you can be giving a quick, accurate reading within a couple of seconds.
On the analog side, the Master Series Brix refractometer line provides the end-user with a multitude of choices for measuring specific ranges from low to high concentrations. As traditional hand-held refractometers, they are operated by placing a sample on the lens and holding the device up to the light. The Master Series contains models that are equipped with several unique features such as water resistance, automatic temperature compensation and heat resistance for measuring higher temperature samples.
In its ongoing efforts to diversify and specialize for its customers, NSG is now offering a specific wine brix refractometer series with a number of different options. First amongst these is a digital hand-held pocket version, which can be ordered with various settings of the user's choice. A corresponding analog series is also available along with the state-of-the-art WM-7 Pocket Digital Wine Refractometer, which cancels out external light and measures on 7 separate scales.
In the ongoing months, NSG will make more of Atago's digital, analog and desktop refractometers available on its website.
About NSG Precision Cells
NSG Precision Cells, Inc. was founded in 1958 and has been growing ever since. NSG Precision Cells, Inc. is a well established, highly regarded quartz manufacturer and we specialize in the manufacturing of quartz flowcells, quartz flow channel cuvettes, quartz microchips, quartz cuvettes, and other quartz optical products.