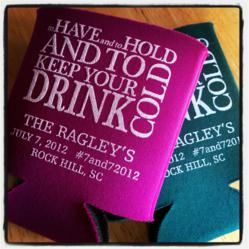 Cyber Monday record sales day at Kustom Koozies!
Raleigh, NC (PRWEB) November 29, 2012
Kustom Koozies, a leader in the print and distribution of KOOZIE® can cooler industry, announces their company's record Cyber Monday sale. Sales on Cyber Monday exceeded sales for any other day of the year.
Kustom Koozies attributes their record sales day to a number of reasons.
1. Economic upturn. The turn in economy seems to have spurred sales.
2. Social Media The Kustom Koozies fan page greatly. See link below. Their twitter account @koozies generates interest and communication.
3. Ease of use. A redesign of the online shopping cart has made it easier for customers to purchase their products.
4. New Products. Kustom Koozies added 11 new products to their expanding line up. All designed to keep drinks cool and be enjoyed by customers.
5. Customer Service Great customer service defined by taking each customer as an individual is apparent. 30% of customers on a daily basis are return customers. Kustom Koozies has people who actually answer phones!
6. Holiday season approaching. Customers are ordering personalized can or bottle insulators as Christmas presents.
Kustom Koozies is one of the foremost internet providers of insulated beverage containers. These are used for a number of different occasions. Can coolers are used as party favors and are particularly popular for weddings, birthday parties, class and family reunions and are used quite often by businesses as a give away item.
Kustom Koozies provides 20 different styles to choose from. The two main categories are collapsible and foam. Collapsible can coolers are foldable and are primarily used for mailings, or easy transport. Foam can coolers are the best insulators and are sturdy and stackable. Photographs can now be imprinted on an insulator.
Kustom Koozies provides 100's of free great designs for parties and events. Customers can just change the text to their own personal information or they can provide their own graphics.
Whether it is the economy, Social Media, Facebook, Twitter, a new cart, new products or great service or the holidays, Kustom Koozies is happy to be forging ahead in this economy.
If you are not sure what these can coolers are called, Remember, it's not koosie, koosies, koosey, kooseys, cozy, coozys, coozey, coozeys, coozie, cozies, coosy, coosys, coosie, coosies, coozey, coozeys, cozy, cozys, cozie or cozies … it's a KOOZIE®.
###
Kustom Koozies was founded in 1999 in the spare bedroom of the owners house. Kustom Koozies now prints can coolers in a 5000 square foot building, servicing over 6,000 customers annually. Kustom Koozies can be found at http://www.kustomkoozies.com or email us at nancy(at)kustomkoozies(dot)com. Find us on Facebook at https://www.facebook.com/pages/Kustom-Koozies/293312867365701?ref=ts&fref=ts