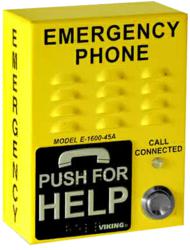 It provides reliable communication, automatic dialing, and can stay operational in severe weather.
Milwaukee, WI (PRWEB) November 28, 2012
Telcom & Data, a leader in emergency notification products, is proud to introduce the E-1600-45A outdoor emergency call box from Viking. The ADA compliant emergency phone is designed to provide reliable hands-free communication for parking garages, lobbies, universities, convention centers and elevators.
The Viking call box boasts many outstanding features. The unit can dial up to five programmable emergency numbers and two central station numbers. Additionally, the call box can be programmed to automatically deliver an announcement identifying the location of the call. To withstand outdoor conditions, the call box is designed with Enhanced Weather Protection (EWP). EWP products feature rubber gaskets and boots, hand soldered silicon sealed connections, gel-filled butt connectors, and urethane potted circuit boards.
When Ricardo Trinidad, President of Telcom & Data, was asked about the Viking call box, he said, "Safety is a real concern in places like parking garages and college campuses. For these settings, I would recommend this call box. It provides reliable communication, automatic dialing, and can stay operational in severe weather."
For more information about the Viking E-1600-45A call box, visit Telcom & Data's website or call 1-800-335-0229.
About Telcom & Data:
Since 1996 Telcom & Data has been providing thousands of telecommunication solutions to organizations around the world to measurably improve communications. The company is a leading provider of video conferencing equipment, business phone systems, and mass notification products. Telcom & Data maintains a network of over 1500 technicians with locations in Chicago, Milwaukee and Miami.
About Viking:
Viking Electronics designs and manufactures over 250 telecommunications and security related products for small businesses. The majority of our products are "problem solvers," designed to fix or add unique features to other manufacturers' telephone or security systems. We also manufacture several stand-alone telephone and security products that set themselves apart from the competition by their simple design, ease of use, and cost effectiveness.