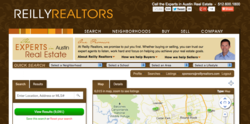 Now that we're easier to find, we're excited about serving our prospective clients.
Austin, TX (PRWEB) November 28, 2012
The real estate market is bustling in Austin, Texas. With a culture that welcomes people of all backgrounds and thousands of people moving to the city every year, staying competitive in the Austin real estate market is a full time job. For years, Reilly Realtors has succeeded by providing a superior online experience to search Austin homes for sale. But until recently, the company only had possession of the domain: http://www.reillyrealtors.com that matched their company name.
Michael Reilly, the managing broker of Reilly Realtors, keenly observed that many people searching for his brokerage by name online were often searching using terms like "Reilly Real Estate." These searches would inevitably lead people to the website http://www.reillyrealestate.com, the website of a former real estate brokerage from nearby Marble Falls, Texas. Due to the similarity of the names "Reilly Realtors" and "Reilly Real Estate," one can understand the potential confusion of customers searching for Reilly Realtors online. The idea of these potential customers mistaking the other website for his own site was a concern for Reilly. After spending so much time and valuable resources crafting his own website, he decided to resolve the potential confusion by buying the other domain and redirecting it to his site.
"We've taken the time to craft an easy to use website to give our customers the best possible experience when searching Austin homes for sale," says Reilly. "Because we want to make sure that prospective and returning clients have no problem finding us on the internet, buying the domain: http://www.reillyrealestate.com was a top priority."
Reilly bought the domain on Tuesday, November 20, 2012. The domain was then redirected to http://www.austinhomelistings.com on Monday, November 26, 2012. This is great news for those shopping Austin homes for sale, as many new customers will be able to easily find Reilly Realtors' expertly built real estate map searches.
"With the new domain in hand, we look forward to serving our new clients knowing that we made ourselves that much easier to find."
About Reilly Realtors, LLC
Reilly Realtors, LLC was formed in 2006 by Michael and Shae Reilly, and focuses primarily on residential home sales in Austin and the surrounding areas. The brokerage is made up of 15 top producing agents with an average of 5 years experience and is on track to close $60,000,000 in residential sales for 2012. Reilly REALTORS operates an extremely popular website, which allows the public to search virtually all Austin homes for sale with an easy to use map-based interface using data from the Austin MLS. For more information about Reilly Realtors, call 512-600-1800 or visit us online.
Michael Reilly, Owner
Reilly Realtors
512-600-1800