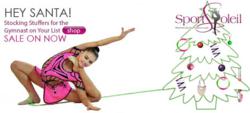 ...we are gift wrapping everything beautifully at no extra cost, so by buying some rhythmic equipment items for Christmas - it's not only one less thing to buy in the new year.... it's one less thing to wrap right now too
(PRWEB) November 29, 2012
SportSoleil RhythmicGymnasticsStore.com announces its annual Christmas sale on rhythmic gymnastics equipment and accessories.
Everything in the store is on sale, with discounts up to 50% off regularly priced rhythmic gymnastic balls, ropes, hoops, clubs, ribbons, apparel and accessories. The Christmas sale runs for a limited time, ending on December 24, 2012.
"Gymnastic parents have to buy half-shoes and rhythmic equipment for their gymnasts anyways, so why not buy a few pairs of Sasaki toe-slippers for a stocking or the new Pastorelli ball they will need and put it under the tree? And the nice thing is that as part of the sale we are gift wrapping everything beautifully at no extra cost, so by buying some rhythmic equipment items for Christmas - it's not only one less thing to buy in the new year.... it's one less thing to wrap right now too," says Linda B, head of marketing at SportSoleil.
"With all of the beautiful holographic shades of adhesive hoop tape; the stunning colors in products like the Chacott Jewelry Ball; and the iridescent Swarovsky crystals that adorn some of the crocheted hair nets, these items are really quite Christmasy!"
Linda warns that the rhythmic store does have limited stock quantities on the more popular gymnastics items however, so it is recommended to order online or by phone today.
SportSoleil RhythmicGymnasticStore.com accepts orders 24/7 online, or you can simply email or call the store with your order:
Phone: 1-(877)-788-9475 or 1-87778-TWIRL
Email: CustomerCare(at)RhythmicGymnasticStore(dot)com
The Rhythmic store ships to customers all over the world and orders are often shipped the same day they are received.
"We'd also like to take this opportunity to wish everyone in the rhythmic community a very happy holiday season. Whether you celebrate Christmas or not - we hope you get the chance to take some time away from the gym to relax and enjoy being with friends and family. We are grateful for all of the support, encouragement and loyalty we see year-round from our amazing customers and wish to thank-you for that and show our appreciation to you," states Linda.
SportSoleil RhythmicGymnasticStore.com is an official supplier for FIG Certified Sasaki Sports rhythmic gymnastics equipment, Chacott RG Equipment, Pastorelli Sports, ZenRG, Bleyer, and other top rhythmic equipment manufacturers.