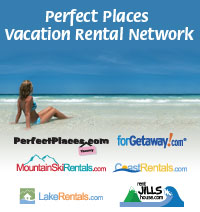 Perfect Places strives to provide travelers with services that improve and simplify their travel planning for the best possible vacation
Mountain View, CA (PRWEB) November 28, 2012
Perfect Places Vacation Rentals' new destination Guides & Tips section gives travelers an easy to find, easy to use resource when planning their stays in popular areas around the globe. Rick Haggart, President of Perfect Places, said destination Guides & Tips can be found on region and city pages at PerfectPlaces.com.
"We're always looking for ways to improve the traveler's experience booking vacation rentals and planning their vacation," Haggart said. "So we have added destination Guides & Tips. These are original articles written for travelers planning a vacation rental stay that are placed on a destination page to provide important and valuable information about the region."
People searching for Paris vacation rentals will find information about the Eiffel Tower, Notre Dame, art museums, getting around Paris and much more about the city. Those searching for Gulf Shores vacation rentals will find information about beaches, fishing, wildlife refuges and parks, watersports and more, all within the Gulf Shores region. People searching for Destin vacation rentals will find information about Destin itself—fishing, beaches and even off-season activities—as well as details about the general Destin area.
"We offer people a fantastic selection of vacation rentals, and our mission is to make sure a visitor to PerfectPlaces.com will find the vacation rental they need at a price they can afford," Haggart said. "As part of that mission, we strive to provide travelers with services that improve and simplify their travel planning for the best possible vacation. Travelers can bookmark our destination Guides & Tips and return to the page as they plan their trips and activities."
Haggart said Perfect Places will add destination Guides & Tips for many more destinations. "We're excited to be a part of the vacation planning process," Haggart said. "Vacations provide the best memories, the best times, the best way to relax, recharge and have fun. By providing our customers with destination Guides & Tips, we're helping them get the most out of their vacation budget."
Haggart said that destination Guides & Tips will also be updated as needed. "We're going to check back on all the destinations we feature and update our site with new activities and happenings, so travelers can count on getting the most current information from Perfect Places," Haggart said.
About Perfect Places: Perfect Places offers over 60,000 vacation rental properties in more than 80 countries. Perfect Places operates a portfolio of vacation rental websites including PerfectPlaces.com, forGetaway.com, LakeRentals.com, CoastRentals.com, MountainSkiRentals.com and RentJillsHouse.com. Since 1996, Perfect Places has been a leading source for travelers looking for vacation rentals. Travelers can search for short-term rentals at Perfect Places websites for free. They'll find a wide assortment to choose from, including homes, condos, villas, cabins, bed and breakfasts and more.