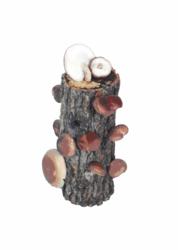 People who got a gift log wrote us things like, 'I love it! What a surprise! What a great idea!' They email us photos of their fruiting logs. It's so much fun!
Perkins, OK (PRWEB) November 29, 2012
Shiitake: The world's second-most popular mushroom, and highly prized among mushroom lovers. The tastiest, meatiest, most nutritious and healthful shiitakes grow on logs, as they do in Nature. These gourmet 'shrooms are generally found only in high-end restaurants and specialty food stores.
So if that holiday list has mushroom lovers or gardeners on it, , a shiitake mushroom log kit from Lost Creek Mushroom Farm is hard to beat. It grows in the house – in the light – and is easy to take care of. Soaking in non-chlorinated water every two weeks feeds it, and soaking in ice water every two months to make it "fruit" -- grow shiitakes. From soaking to eating is about 10 days.
"Getting a log is a big surprise," said the Mushroom Lady Sandra Williams, shiitake lover, shiitake farmer, and popular speaker on mushrooms and their benefits. "Growing their own mushrooms is fun for everybody in the family."
"The kits include a registration card that extends the unconditional guarantee from four to six months. People who got a gift log wrote things on their cards like, 'I love it! What a surprise! What a great idea!' They email us photos of their fruiting logs. It's so much fun!"
Logs will grow only a few mushrooms at first. As they mature, they pop out increasingly larger yields.
The Mushroom Lady explained, "Where one log grows mushrooms every other month, two logs will give you mushrooms every month. We have The Ma & Pa Kit with two 9-10-inch logs and the "Best Buy" with two 14-inch logs with their own soaking trays shipped to the same address. Both offer significant savings.
"These two are the best real, hardwood shiitake mushroom log kit values on the market," she said. "With the Best Buy, a people can give two gifts or give one and keep one for themselves."
A mushroom gift for every budget: Prices range from $18 to $80 and include shipping. Kits include the log, instructions and recipes. Log kits 9-10 inches and longer are fully guaranteed to grow shiitakes. Shiitake Sampler Cookbooks by Janet Bratkovich are $9.95, or $7.95 when shipped with a log kit; and "Shiitake Happens" bumper stickers are $3.00.
The Mushroom Lady encourages ordering as soon as possible. "The demand for shiitake mushrooms and mushroom logs is greater than we've seen in 20 years. Ordering now insures that gift log kits will be available." The logs are living organisms and can't stay in the box for more than two weeks, so Lost Creek Mushroom Farm prefers to ship to arrive by Dec. 20, or a specified date.
Phone orders and free brochures are available at 1-800-792-0053. Online, visit http://www.shiitakemushroomlog.com or search Lost Creek Mushroom Farm. Lost Creek Mushroom Farm log kits are available on Amazon.com at slightly higher prices.
Shiitake-Pumpkin Soup
From Rev. Carol Fincher
1 lb shiitake mushrooms*, sliced
1 tsp. salt
2 medium onions, chopped
1/4 tsp. garlic powder
1/3 cup vegetable oil
1/4 tsp. pepper
1 15 oz. can of pumpkin or 2 cups of fresh, cooked pumpkin meat
Pinch of nutmeg
2 14.5 oz cans of chicken broth
1½ - 2 cups or more milk or cream, for desired thickness
Heat oil in a large pot, add onions and sauté until translucent, add mushrooms and sauté lightly. Add pumpkin and stir. When heated through add chicken broth and stir. Add salt, garlic powder, pepper and nutmeg. Bring to a boil. Reduce heat and simmer for 30 minutes. Add milk or cream and serve.
Note: A young shiitake log will not produce a pound of mushrooms. Think about supplementing with store-bought shiitakes or fruiting two logs at a time.
Lost Creek Mushroom Farm donates a portion of sales to The Voice of the Mushroom Foundation to promote small-scale mushroom production worldwide and encourage mushroom consumption for health and well-being. Mushrooms in Ghana Project, founded in 2007, provides production assistance and education for small-scale mushroom farming in West Africa.