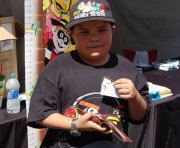 Immediate information about the missing child is important to help authorities find the child.
Phoenix, AZ (PRWEB) November 28, 2012
On average, about 797,500 children younger than 18 years old are reported missing in the United States annually according to the U.S. Department of Justice. 1 Stop Title Loans, a loan agency offering personal loans to the Phoenix area, wants to lower that number by offering free children identification cards every Tuesday through a new program called "Free Kid ID Tuesday."
1 Stop has been offering free kid ID's at major marketing events such as the Cinco de Mayo festivals for several years. After seeing the popularity at these events, 1 Stop decided to make "Free Kid ID Tuesday" a permanent program at all of their Phoenix metro locations. The program will run for the sake of helping the country lower the rate of missing children. Any parent, regardless if you are a customer or not, can come into a 1 Stop location with their child under 16 years old for a free identification card.
The kid ID's will have a picture of the child, the child's first and last name, a complete physical address, a phone number, their date of birth, their eye and hair color, and their height and weight. "As heartbreaking as it is, children around the country go missing everyday," says a spokesperson with 1 Stop Title Loans, "This is one of the reasons the Amber Alert was put into place. Immediate information about the missing child is important to help authorities find the child." Currently in the U.S. about 2,185 children are reported missing on a daily basis. With the distribution of these free kid ID's, 1 Stop hopes to help reduce the number of missing children.
For more information about "Free Kid ID Tuesday" and to see if a location near you is participating in the program call (602) 264-2400.
About 1 Stop Title Loans
1 Stop Title Loans has 12 locations valley-wide and has been providing the Phoenix metro area with short-term financial loans, check cashing, auto insurance, and MVD services since 2003. The 1 Stop Challenge promises customers will be treated professionally, get the cash they need, and the assistance required to help them understand their loan terms and conditions. For more information regarding 1 Stop Title Loans visit 1stoptitleloans.com or call (602) 264-2400.