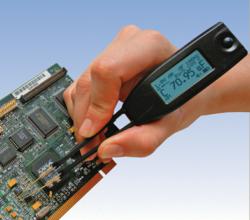 This is an unrivaled LCR-meter for Surface Mount Technology due to its light weight and the ease-of-use
Amsterdan, the Netherlands (PRWEB) November 29, 2012
Early this year a new model ST5 of Smart Tweezers LCR-meter was released by Siborg Systems Inc based in Waterloo, Ontario, Canada. A few important agreements have been reached facilitating marketing of the new product in Europe and Asia. The latest activity in Europe is associated with PrintTec from the Netherlands.
PrintTec is, since 1999, a wholesaler specializing in workplace design and production resources, such as machines and systems, soldering equipment, tools and consumables, intended for a professional user in the electronics industry.
"Our customers are well-known OEMs, subcontractors or third party manufacturers and service and repair organizations in the electronics industry." says Robert Joosten, the owner of PrintTec, "We were the first organization of the kind with an online shop.The trend is that fewer and fewer people are involved in organizing production, purchasing and inventory therefore, we aim to be a partner for our customers in the field of demand and logistics. Called today, delivered tomorrow, with easy online ordering of daily necessities and fast delivery is an important pillar of our business. Furthermore, and perhaps the most importantly, we offer advice and support with our product and process knowledge."
"From the very first glance we realized how useful Smart Tweezers LCR-meter would be to most of our clients. This is an unrivaled LCR-meter for Surface Mount Technology due to its light weight and the ease-of-use," add Robert Joosten.
The new model of Smart Tweezers LCR-meter from Siborg Systems Inc. answers many of problems with testing and troubleshooting electronics with Surface Mount Technology.
Smart Tweezers LCR-meter is the combination of a high-precision gold-plated tweezers acting as the probes, an LCD screen, and an LCR meter designed for Surface Mount Technology. The newest model, the ST5, features a designated ESR measurements, continuity and diode test, component sorting and an estimated 6 times higher basic accuracy of 0.2% than that of the older models.
Unlike bench-type testers that offer the same accuracy but require a lot of setting-up time, Smart Tweezers is a fully automatic LCR-meter that is pocket sized and is easily used with one hand, leaving the other free for taking notes or holding other tools. The lightweight, less than 2 oz. device allows for quick assessments of PCBs for testing or debugging, as well as component evaluation.
With the capabilities to automatically identify components, Smart Tweezers LCR-meter is able to evaluate all types of passive SMD and through-hole devices. It allows fully automatic and manual measurement of Inductance (L), Capacitance (C) or Resistance (R) with high speed and precision of a bench-type meter. Smart Tweezers also measures for secondary parameters such as the Equivalent Series Resistance (ESR) of a capacitor, doubling the device as an ESR-meter.
A patented mechatronic design allows the ST to have well defined, very low parasitics that are easily eliminated using a new semi-automatic offset subtraction feature. This feature allows Smart Tweezers to measure very low capacitance and resistance of 1 picofarads and 1 milliohms range. Also indispensable for radio electronics, Smart Tweezers is able to measure a fraction of microhenry when measuring inductance.
Smart Tweezers LCR-meter is an industry proven tool for professional work involving SMT component sorting, in-circuit and on-board impedance testing and PCB debugging, as it is used by numerous high-tech companies worldwide.
The Smart Tweezers Blog features all the latest news.
About Siborg Systems Inc:
Established in 1994, Siborg Systems Inc. is a source of engineering software and hardware tools for semiconductor and electronics industry. Located in the city of Waterloo, Ontario, Canada, it enjoys being part of the local world-renowned high-tech community.
About PrintTec b.v.:
Established in 1999, PrintTec is a wholesaler specializing in workplace design and production resources: soldering materials,cleaning materials, ESD protection, hand tools, soldering systems, rework systems, microscopes, test & measurement systems, PCB prototyping, SMT prototyping, stencil printers, pick & place systems, reflow ovens, wave soldering machines
For more information: Robert Joosten
PrintTec b.v.,
Lingewei 57, 4004 LK Tiel, the Netherlands
Tel; +31-(0)344-570088, Fax; +31-(0)344-571077
info (at) printtec (dot) nl