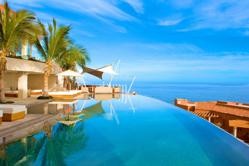 SAN DIEGO, CA (PRWEB) November 29, 2012
ResortCom International's LaTour Hotels and Resorts, which offers personalized luxury hospitality management services for four-star and five-star properties worldwide, has been selected to provide key management and some administrative services for the luxury Fractional Units at Grand Regina Los Cabos. The property, a collection of 32 private two and three bedroom residences with spectacular views of the Sea of Cortez shares many of the services of the Westin Los Cabos as its neighbor.
The LaTour Signature Group will work in concert with the existing onsite management company, providing certain services such as maintenance fee billing, collections, owner communications and resort rental programs.
"We greatly respect the ResortCom/La Tour business model, especially for their long, successful history in the area of marketing existing inventory as rentals, "said Jim Gilbert, a member of the Grand Regina Owner's Advisory Board. "We look forward to working with them during this new era for Grand Regina."
Built in 2003, The Grand Regina was one of the first true luxury fractional resort ownership communities in Los Cabos. With the successful sell-out the Grand Regina, it is now owned by a limited collection of private homeowners. La Tour will work directly with those homeowners to sell and rent the currently owned units at the resort.
According to John Small, Chairman of ResortCom "The Grand Regina combines stunning guest rooms and suites with a fabulous package of amenities, including three swimming pools, spa and fitness center, open -air restaurant and 650 feet of incomparable Baja California beachfront. We are proud to have been chosen to work with the HOA to enhance their bottom line and provide the services for which we have been so respected for more than a quarter of a century."
In Mexico, LaTour also manages Delcanto, a condominium resort in Nuevo Vallarta and Celeste Beach Residences and Spa in Huatulco. ResortCom International manages numerous functions for The Villa Group, which includes Villa La Estancia fractional residences in Cabo San Lucas.
About ResortCom International/ LaTour Hotels & Resorts
San Diego-based ResortCom International provides resort management, rental, reservations, travel and financial services to the vacation ownership, fractional and luxury resort industry.
A division of ResortCom International, LaTour Hotels & Resorts is headquartered in San Diego and San Francisco and offers customized, luxury hospitality management services for four- and five-star properties. The company's goal is to make the ownership experience as unique, tailored and memorable as possible through superior service, distinctive amenities, imaginative activities and an obsessive attention-to-detail.
Offering services ranging from conceptual planning through marketing, sales, staffing and operations, LaTour Hotels & Resorts specializes in managing new and existing luxury fractional, private residence club, hotel, mixed-use and condo resort developments. The global company currently operates properties in the United States, Mexico and Thailand with expansion plans throughout Asia, South America and Europe.
LaTour Hotels & Resorts offers two product lines: one delivers extraordinary, highly personalized vacation experiences at four-star urban and resort properties, and LaTour Signature Group private label is limited to five-star developments. For more information, visit http://www.latourhotelsandresorts.com or contact us at 619-683-2470 ext. 1659 or email peterg(at)resortcom.com.
The San Diego-based ResortCom International is known as the top performer in Global Portfolio Management exemplified in healthy portfolios, low delinquencies and foreclosures. In addition to loan receivables servicing and portfolio management, ResortCom's Financial Services Division also specializes in Maintenance Fee Billing and Collections, Merchant Credit Card Services, Tax Withholding Trust Administration, Custodial Services and Lender Support. The international company provides services in many languages or currencies.
ResortCom International's current client list includes: El Cid Resorts, Grand Solmar, Occidental Vacation Club, Park Plaza Resort, Playa Grande Resort and Spa, Raintree Vacation Club, Universal Vacation Club, Viva Vacation Club, Villa La Estancia Resort, Velas Vallarta, Bahia de Principe Avalon Vacation Club, Royal Holiday/Costamex and The Villa Group, to name a few. ResortCom International's International Headquarters are located at: 404 Camino Del Rio South, Fourth Floor, San Diego, CA 92108. The company has offices in Las Vegas, Mexico City, Sao Paulo, Brazil, Phuket, Thailand and San Francisco. For more information about ResortCom International: http://www.resortcom.com.