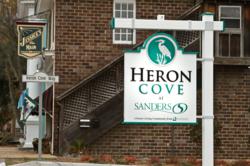 "These homes support the lifestyles and choices of our residents."
Gloucester, Va. (PRWEB) November 28, 2012
Willard Scott, a TODAY show weatherman and host of the 100th birthday salutes, will host the Heron Cove at Sanders community preview day on Dec. 8. Scott's visit is sponsored by Remedi SeniorCare, Spain Commercial and Clinical Resources, LLC.
The community is welcome to visit Heron Cove from 11 a.m. to 3 p.m. for tours, to meet Scott and to learn more about Riverside's innovative style of caring for older adults.
Located off of Gloucester Courthouse's Main Street on Heron Cove Way, Heron Cove at Riverside Sanders Retirement Community replaces a more than 50-year-old nursing home, marking the opening of the first residence of its kind for older adults in Virginia.
At Riverside's Heron Cove at Sanders, the nursing home institution is replaced with two authentic homes where residents receive both a high level of quality clinical care and in a highly residential setting.
Both houses in Heron Cove are designed like traditional homes and feature private bedrooms and bathrooms and open dining and living areas. At the heart of each home sits a family-style kitchen that's resident friendly and meant to bring every aspect of home life to the forefront of daily living.
"Most importantly, these homes support the lifestyles and choices of our residents," said Rudy Heinatz, Executive Director of Riverside Sanders Retirement Community, adding that the residents will move into their new homes at Heron Cove in January.
Both homes in Heron Cove can accommodate up to 20 residents. One home will provide long-term nursing care and one will provide short-term rehabilitation.
Riverside broke ground on Heron Cove in November 2011. Sanders Retirement Community, one of Riverside's three continuing care retirement communities, includes assisted living apartments and independent living cottages. Both remain part of the campus.
Learn more about Heron Cove at Sanders at http://www.sandersliving.com.
About Willard Scott:
TODAY's ebullient Willard Scott has made mornings much brighter for millions of viewers since he first appeared on the program in March 1980 as weatherman. In addition to his current duties as substitute weather reporter, he appears on the program on Tuesdays and Thursdays with his popular 100th-birthday salutes.
Scott joined TODAY as weatherman after having performed similar duties at WRC-TV, the NBC owned-and-operated television station in Washington, D.C., starting in 1968.
His travels with TODAY have taken Scott throughout Europe aboard the Orient Express; to China; to Australia; to South America; on a cruise ship along the Eastern Seaboard; to Rome during Holy Week; Hawaii; and to the heartland of America on the "TODAY Express."
In addition to his many weather telecasts from state fairs, fund-raising events, parades and civic events across the country, Scott co-anchored coverage of Macy's Thanksgiving Day Parade from 1987 to 1997, and traditionally appeared as Santa Claus at White House events for children.
Scott has made numerous appearances throughout the country, including at Carnegie Hall in 1989 with Skitch Henderson and the New York Pops; at Symphony Hall in 1989, when he narrated The Night Before Christmas with the Boston Symphony; at the Palace Theatre with George Abbott and the Grand Ole Opry. In addition, Scott hosted the Family Channel's The New Original Amateur in 1991. Scott also appeared as the very first Ronald McDonald in TV commercials in 1963.
He began his career with NBC as a page at the Washington station in 1950. At that time he was also a weekend disk jockey for radio station WINX in that city. He joined WOL Radio that same year and, with Ed Walker, formed The Joy Boys broadcast team, moving
in 1953 to WRC-AM, the NBC radio station in Washington, D.C., where he remained until 1972. The Joy Boys then broadcast from WWDC in Washington from 1972 to 1974. In addition, Scott's weather reports were broadcast on WRC-AM from 1956 until 1972.
In 1983, Scott complied with a request from a viewer to wish his mother a happy 100th birthday on the air. Thus began a long tradition of giving on-air birthday greetings to centenarians that still continues today.
Scott has distinguished himself with his public-service efforts, and has been named both Distinguished Virginian by the Virginia Association of Broadcasters (1990) and Washingtonian of the Year by Washingtonian magazine (1979). He also received the Great American Award from the Bards of Bohemia in New Orleans (1990) and was named Humanitarian in Residence by the National Society of Fund Raisers (1985). In 1985, he was recognized by President Ronald Reagan with the Private Sector Award for Public Service.
Scott is the author of six books: The Joy of Living, Down Home Stories, Willard Scott's All-American Cookbook, America Is My Neighborhood, Murder Under Blue Skies and Murder in the Mist. He is a graduate of American University in Washington, D.C., with a B.A. in philosophy and religion.