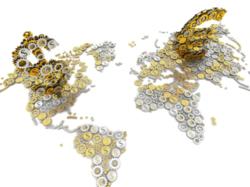 One thing that has been constant regarding the eurozone is that many analysts who have come out with an economic forecast have consistently been revising it downward.
New York, NY (PRWEB) November 28, 2012
In a recent Investment Contrarians article, editor and financial expert Sasha Cekerevac reports that the recently released business survey conducted by research firm Markit shows the Purchasing Managers' Index (PMI) for the service sector at 45.7 this month, far below the 50.0 level, which denotes contraction in that sector for the eurozone. (Source: "Eurozone Faces Deepest Downturn Since Early 2009," Reuters, November 22, 2012.) Cekerevac notes that, using this key piece of data, many analysts and investors are trying to determine their economic forecast for the fourth quarter and fiscal 2013. Cekerevac points out that while America has its own serious issues, analysts' forecasts are reminding the global economy that the eurozone could become a huge problem for many nations in 2013.
"One thing that has been constant regarding the eurozone is that many analysts who have come out with an economic forecast have consistently been revising it downward," states Cekerevac. He adds, "It's extremely difficult to properly come up with a framework that is viable over the long term if the economic forecast one is using is flawed."
According to the Investment Contrarians expert, when creating an economic forecast, trends are important, noting that forecast continue to reveal that declines are not only consistent, but they are also getting worse within the eurozone.
Cekerevac points out that there are other extremely important factors that will determine how strong the eurozone economy will be next year, as well as the euro currency.
"A crucial factor is whether or not eurozone members can come up with an agreement for greater integration, and the bailing out of some of its weaker members," states Cekerevac. "This will certainly be important in calculating the economic forecast for the eurozone, because if these initiatives were to fail, it would mean that the eurozone itself is on the verge of disintegration."
As the Investment Contrarians expert points out, the declining economic situation in many nations, including extremely high levels of unemployment, certainly clouds any economic forecast for the eurozone in 2013.
Cekerevac reports that recent data point to the possibility that the weaker eurozone members are beginning to drag down Germany, which might cause extreme disillusionment by its citizens toward helping to bail out the weaker and inefficient members of the eurozone, a sentiment that is already present and gaining steam.
"This could cause greater tensions in 2013," concludes Cekerevac, "which ultimately leads to the conclusion that any economic forecast for the eurozone should never be written in ink, since the situation is so fluid that it seems to change on a weekly basis."
To see the full article and to get a real contrarian perspective on investing and the economy, visit Investment Contrarians at http://www.investmentcontrarians.com.
Investment Contrarians is a daily financial e-letter dedicated to helping investors make money by going against the "herd mentality."
The editors of Investment Contrarians believe the stock market and the economy have been propped up since 2009 by artificially low interest rates, never-ending government borrowing, and an unprecedented expansion of our money supply. The "official" unemployment numbers do not reflect people who have given up looking for work, and are thus skewed. They believe the "official" inflation numbers are also not reflective of today's reality of rising prices.
After a 25- to 30-year down cycle in interest rates, the Investment Contrarians editors expect rapid inflation caused by huge government debt, and money printing will eventually start us on a new cycle of rising interest rates.
Investment Contrarians provides unbiased research. They are independent analysts who love to research and comment on the economy and investing. The e-newsletter's parent company, Lombardi Publishing Corporation, has been in business since 1986. Combined, their economists and analysts have over 100 years of investment experience.
Find out where Investment Contrarians editors see the risks and opportunities for investors in 2012 at http://www.investmentcontrarians.com.
George Leong, B. Comm., one of the lead editorial contributors at Investment Contrarians, has just released, "A Problem 23 Times Bigger Than Greece," a breakthrough video where George details the risk of an economy set to implode that is 23 times bigger than Greece's economy! To see the video, visit http://www.investmentcontrarians.com/press.