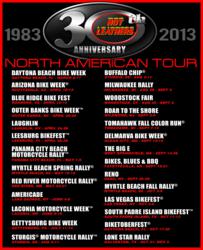 Come celebrate with Hot Leathers all year long, and check out the 2013 line up of events where you can get the perfect souvenir.
Manchester, CT (PRWEB) November 28, 2012
Revving up for their 30th Anniversary in 2013, Hot Leathers, the industry leader in motorcycle apparel and accessories, adds even more events, sales, and merchandise to their lineup. Motorcycle enthusiasts around the country will be able to get official merchandise and apparel at all the big bike events from coast to coast. Hot Leathers is excited to set up their one-stop rally shops in more places than ever, giving rally goers a chance to peruse and get great deals on the ultimate in riding gear. Come celebrate with Hot Leathers all year long, and check out the 2013 line up of events where you can get the perfect souvenir.
Hot Leathers will be offering licensed merchandise from some of your favorite brands and events this coming year, but you can get yours now, just in time for the holidays. Get great deals on official Sturgis gear or Buffalo Chip tee shirts before the rally and roll into 2013 and the original rally town in style. If you're planning on getting in on the action at Laconia, Gettysburg, or Arizona, pick up great Hot Leathers styles online and look good while cruising anytime, anywhere. Also new this year, be sure to check out Sons of Anarchy gear and find great gifts for enthusiasts of this popular television series. Hot Leathers has all the gear you need: men's and ladies' shirts, patches, headwraps and pins. Check out all the great deals online before you hit the road and be sure to stop by the Hot Leathers rally shops to celebrate 30 years of great gear and amazing deals.
Hot Leathers 2013 Event Schedule
Celebrating 30 years of fun and adventure on the road
Daytona Beach Bike Week Daytona Beach, FL March 8-17
Arizona Bike Week Scottsdale, AZ April 10-14
Blue Ridge Bike Fest Roanoke, VA April 12-14
Outer Banks Bike Week Outer Banks, NC April 20-28
Laughlin Laughlin, NV April 24-28
Leesburg Bikefest Leesburg, FL April 26-28
Panama City Beach Motorcycle Rally Panama City Beach, FL May 1 - 5
Myrtle Beach Spring Rally Myrtle Beach, SC May 10-19
Red River Motorcycle Rally Red River, NM May 22-27
Americade Lake George, NY June 4-8
Laconia Motorcycle Week Laconia, NH June 8-16
Gettysburg Bike Week Gettysburg, PA July 11-14
Sturgis Motorcycle Rally Sturgis, SD August 2-11
Buffalo Chip Sturgis, SD August 2-11
Milwaukee Rally Milwaukee, WI Aug. 28 - Sept. 2
Woodstock Fair Woodstock, CT Aug. 30 - Sept. 2
Roar to the Shore Wildwood, NJ September 5-8
Tomahawk Fall Color Run Tomahawk, WI September 7-15
Delmarva Bike Week Ocean City, MD September 12-15
The Big E West Springfield, MA September 13-28
Bikes Blues & BBQ Fayetteville, AR September 18-21
Reno Reno, NV September 25-29
Myrtle Beach Fall Rally Myrtle Beach, SC October 2-6
Las Vegas Bike Fest Las Vegas, NV October 3-6
South Padre Island Bikefest South Padre Island, TX October 11-13
Biketoberfest Daytona Beach, FL October 17-20
Lonestar Rally Galveston, TX Oct. 31- Nov. 3
Hot Leathers has been serving the motorcycle community for 30 years and is the leading motorcycle apparel and merchandiser in the country. Want to stay updated on all the Hot Leathers events, specials, follow the Hot Leathers trailers around the country and get the first glimpses of Officially Licensed Merchandise? Then be sure to "Like" Hot Leathers on their Facebook Page at facebook.com/hotleathers. You can also follow them on Twitter, Instagram or Pinterest.