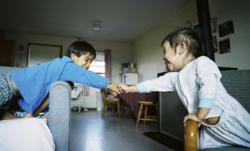 Let us put our minds together and see what future we can make for our children - Tatanka Iyotanka (Sitting Bull) 1877
Santa Cruz, CA (PRWEB) November 28, 2012
Reviewing the Facts: An Assessment of the Accuracy of NPR's is a draft report to Congress whose title comes from the questions posed by six members of the House of Representatives immediately following Laura Sullivan's Peabody Award winning NPR series in late October 2011, "Native Foster Care: Lost Children, Shattered Families."
After the NPR story, six Congressmen four Democrats and two Republicans — wrote forceful letters to Larry Echo Hawk, the Assistant Secretary of the Department of the Interior for Indian Affairs. The lawmakers demanded that the Bureau of Indian Affairs (BIA) investigate the claims made by NPR and take steps to stop further removal of Lakota children from their homes.
The draft report focuses specifically on the claims made by NPR as they were re-articulated by Congressmen Ed Markey (D-MA) and Dan Boren (D-OK) in their letter to Assistant Secretary Echo Hawk on October 31, 2011. Jim Moran (D-VA) and Mike Simpson (R-ID) wrote to Echo Hawk on November 1, 2011. Dale Kildee (D-MI), and Tom Cole (R-OK) also wrote asking for a review of the issues raised in Laura Sullivan's investigative report. The concerns raised by the Congressmen included assertions in the NPR series regarding alleged violations of the Indian Child Welfare Act and possible financial incentives received by the State of South Dakota to place Native children with non-Native families. The NPR series included stories of the arbitrary and unjustified removal of Lakota children from their home without any recourse for family members.
Echo Hawk responded to the House Members, promising to host an ICWA summit in South Dakota in early 2012—but the summit never happened. In April 2012, Echo Hawk resigned from the Department of the Interior.
In June, the ICWA Coalition voted to prepare a draft response to the questions posed by the members of Congress and requested the technical assistance of the Lakota People's Law Project to assemble material for the report. The draft report has been prepared in close consultation with ICWA Coalition members.
Since 2005, the Lakota People's Law Projec t has been partnering with tribes and leaders in South Dakota from its office in Rapid City to challenge more than 150 years of injustice against Native American families. These activities have included funding and supporting Native experts to provide technical assistance to the tribes on family and child welfare issues. The Lakota People's Law project combines public interest law, research, education, and organizing in a unique model for advocacy and social reform.
The Lakota People's Law Project is sponsored by the non-profit Romero Institute based in Santa Cruz, California. The Institute is named after slain human rights advocate Archbishop Oscar Romero of El Salvador. The Institute seeks to identify and dismantle the structural sources of injustice and threats to the survival of our human family.