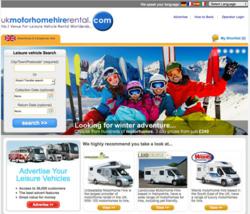 Non-serviced accommodation provided by the UK leisure sector such as camping, caravan parks, motorhome hire, campervan hire and holiday cottages accounted for over half of UK's more than 65,000 tourism accommodation stock in 2011.
Derby, England (PRWEB) November 30, 2012
Tourism is now a key part of the UK economy and, according to English Tourism's own figures from 2011, tourism contributed £97 billion overall to GDP in 2010. Although nearly half (44%) of this related to domestic day trips, domestic overnight and inbound spending by overseas visitors were also both significant, with accommodation playing a large part in tourism provision.
Although the public perception may be that most of the available accommodation stock for tourism is "serviced" (hotels, B&Bs, guest houses etc), in reality, the non-serviced accommodation provided by the UK leisure accommodation sector - such as camping, caravan parks, motorhomes campervans, holiday cottages and lodges - accounted for over half of the more than 65,000 stock available in 2011.
Motorhome hire and campervan hire rental website ukmotorhomerental.com has commissioned an independent report* which seeks to shine a light on the UK leisure accommodation sector today, highlighting the factors which have led to the continued growth of this sector; the effects of the staycation trend; and the changes in demographics and behaviours of consumers. It also looks at the reasons behind a mixed 2012 for the English tourism industry and looks ahead to where the leisure accommodation sector may be heading in 2013 and beyond.
The review of 2012 analyses the effect of the following on the UK leisure accommodation sector:
The economic situation and the effects of a poor British summer

Camping and caravanning would normally benefit from consumers looking for value holidays but issues including the poor British summer meant that they missed out
The Olympics and Paralympics

The Games were great for Britain on many levels but skewed demand for the accommodation sector with leisure accommodation sector being particularly badly affected
Glastonbury and the Jubilee holiday

The absence of the Glastonbury Festival in 2012 had a significant impact on some sections of the leisure accommodation sector whilst the Jubilee holiday had a negligible effect
The Staycation trend

The Staycation trend which boosted UK leisure accommodation in 2010-11 and powered growth of areas such as motorhome hire and campervan hire saw a levelling off in 2012
Changes in demographics

In 2012, glamping was joined by gramping as the over 55 year old 'Empty Nesters' proved to be the most resilient to economic difficulties but those most keen to hit the open road
The influence of social media

The evolving digital landscape and the growing influence of social media continued to shape how consumers of all ages and groups researched and managed their leisure holidays in 2012
The report also evaluates research from a variety of sources to reflect upon the continuing maturing of the UK leisure accommodation market. It highlights how some trends in consumer behaviour and requirements, as well as international demand continue to develop irrespective of short term factors in 2012. There is also an assessment of who benefited from this and who missed out with contrasting experiences for areas such as motorhome hire London and motorhome hire Scotland. Finally, as well as looking fresh data from Q3 2012 to provide a view on the likely outcome for 2012, the report covers early bookings for next season and provides an outlook for 2013 and beyond.
The full report is available to read and download from ukmotorhomehirerental.com.
ukmotorhomehirerental.com is a UK based online portal for motorhome hire and rental and and campervan hire and rental managed by Bad Apple Media Ltd. The report referred to above ("The UK Leisure Accommodation Market – Market Overview 2012-13") is an independent report on the UK leisure accommodation sector commissioned by ukmotorhomehirerental.com from strategic marketing and market research consultancy Du Cane Associates Ltd and is published freely on the ukmotorhomehirerental.com website. It is being published at this time to provide an up to date snapshot of the industry prior to the end of 2012 with the intention of producing reports with a similar scope on an annual basis.
Press contacts:
James Weston
Director
Bad Apple Media Ltd
Tel: +44 (0)1629 8255
info(at)badapplemedia(dot)co(dot)uk
Peter Lloyd
Managing Consultant
Du Cane Associates Ltd
Tel: +44 (0)1629 593711
peter(dot)lloyd(at)ducaneassociates(dot)co(dot)uk