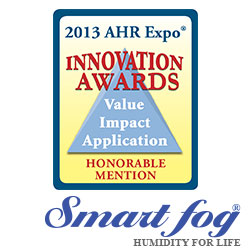 This Smart Fog technology is a truly unique commercial humidification solution, the features solve many of the key issues which the HVACR Industry is facing.
Reno, NV (PRWEB) November 30, 2012
AHR Expo, ASHRAE and AHRI, announce an honorable mention and recognition of the patented Smart Fog TS100 Commercial Humidifiers in the 2013 AHR Expo Innovation Awards Competition.
Smart Fog TS100 Commercial Humidifier packed with features. In addition to its core humidification function. The TS100 utilizes mathematically generated intelligent algorithms to maintain a non fluctuating relative humidity 24/7. "When you set the Smart Fog TS100 to 55%, you only get 55%, and nothing else, there are no fluctuations in any air flow or changing environment" explains Ido Goldstein, director at Smart Fog.
Smart Fog Inc is the first in the industry to incorporate disinfection and dust suppression as a standard feature to the in duct commercial humidification system offering.
Surging public concern on indoor air pollution and clear evidence from scientific studies that ductwork can be contaminated with a buildup of dust, mold and microbial growth are causing a significant increase in maintenance expenditures by owners and facility managers on air duct cleaning. Smart Fog TS100 provides a continuous oxidization and dust suppression while operating. Additionally allowing disinfectants to be introduced into the entire HVAC system with no human presence required.
Completely plug and play system, installation is fast, and easy utilizing push to connect technology on all fittings and mounting.
Turning on the double cooling feature the TS100 can decrease the temperature by 20 degrees both in an indoor and outdoor applications.
"We also have the shortest new system lead time in the industry since we manufacture all our parts in the USA we can ship out any spare parts on the same day," says Goldstein. "Our clients are up and running in less than a week."
About SmartFog:
In business since 1980, Smart Fog Inc. is the recognized world leader in the industrial and commercial humidification systems industry. Smart Fog, The Humidification Experts, is a world leader in developing unique industrial and commercial humidifier systems to meet the individual needs of your environment.
All Smart Fog commercial humidifier and disinfection equipment are manufactured in the U.S.A. using the highest grade raw materials.
For more information, visit: http://www.smartfog.com