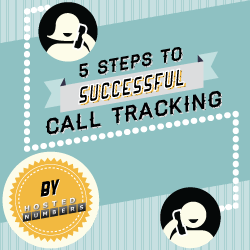 There is something for everyone regardless of the reader's familiarity with call tracking.
Tallahassee, FL (PRWEB) November 30, 2012
Hosted Numbers announces today the release of its new white paper titled "Five Steps to Successful Call Tracking." This white paper comprehensively reviews call tracking; including its history, current applications and proper implementation as well as future innovations yet to be developed. The paper is designed to address a wide range of questions readers might present regarding call tracking, leaving readers confident in their abilities to successfully track calls from their advertising efforts.
Hosted Numbers' Marketing Manager, Nikki Lee, states, "Call tracking is easy and affordable to put in place, but the return on investment when a business understands what drives sales can be massive. Our white paper takes readers on a journey from how to get basic call tracking in place all the way to very advanced technologies and use cases. There is something for everyone regardless of the reader's familiarity with call tracking." Hosted Numbers understands that there are extensive tools to track online clicks, but that data leaves a piece missing from the conversion picture. Without call tracking measures in place, businesses are missing data on people who respond to ads by picking up the phone before converting.
Hosted Numbers' CEO, Victor D'Aurio, says of the paper, "Everyone wants ads that drive response, but why just drive traffic when you can know with certainty that you're driving quality leads? When you can better determine which ads generate your most valuable leads, you can make superior marketing decisions and generate impressive returns on ad spend. Hosted Numbers gives you the tools to cultivate this data and this white paper explains how to make this happen for your business or agency."
There are extensive tools to track online clicks, but without tracking calls your data is incomplete, and worse, inaccurate when trying to gauge overall ad response and conversion rates. Furthermore, a phone call is far more valuable than a click because phone calls convert at a much higher rate. Valuable call data is waiting to be mined to increase campaign effectiveness and overall advertising ROI. In less than an hour, learn all you need to set up a successful call tracking program. Download the whitepaper today or call us (800)-CAN-TRK1 to learn more.
# # #
About Hosted Numbers
Hosted Numbers is a provider of toll-free, vanity and local phone numbers, call forwarding and ad tracking services. Hosted Numbers services are easily configured, there are no contracts, and you can manage your account online or call customer support 24/7. Automated systems deliver the latest technology like advanced call forwarding, call recording, dynamic number replacement, voicemail, and so much more.
Please visit http://www.hostednumbers.com for more information.
Hosted Numbers is a registered trademark of ATG Technologies, Inc. Any other trademarks mentioned are the property of their respective owners.