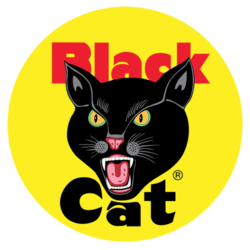 Black Cat is the Best You Can Get!
Prairie Village, KS (PRWEB) November 28, 2012
Winco Fireworks of Rock Hill, SC; TN-AL Stateline Fireworks of South Pittsburg, TN; Central Fireworks of Hattiesburg, MS; Winco Fireworks of Ponchatoula, LA and, Stateline Fireworks of Texarkana, AR are Black Cat® importers and distributors now open and offering the #1 most recognized name in fireworks, Black Cat® Brand Fireworks. These Dealers are servicing wholesale buyers and retail buyers stocking up for the upcoming New Year's Fireworks Celebration sales.
Selling Seasons vary in each state. These Dealers will supply stands, tents, trailers and store outlets for consumer purchases allowed in the following states: Alabama (Dec 15 – Jan 1), Arkansas (Dec 10 – Jan 5), Florida (Dec 10 – Jan 2), Georgia, Louisiana (Dec 15 – Jan 1), Mississippi (Dec 5 – Jan 2), North Carolina, Oklahoma (Dec 15 – Jan 2), South Carolina, Tennessee (Dec 10 – Jan 2) and Texas (Dec 20 – Jan 1).
Black Cat® Full Line Dealers offer a wide selection of Black Cat® Fireworks that include large selections of: Firecrackers, Rockets, Multi-Shot Aerials, Reloadable Kits, Roman Candles, Ground Spinners, Fountains, Sparklers, Smokes, Wheels, Parachutes and a wide range of Assortments.
Black Cat® Fireworks is the most recognized brand of fireworks in the world. The Black Cat® brand was introduced in the US in the 1940's. Over the past 60 years, Black Cat® has evolved from the basic firecrackers to a product line that contains over 500 items today! Continued focus on quality and innovation has made the Black Cat® an international brand, with presence in markets all over the world.
For more information about Black Cat® Fireworks and for a sneak peak of our product go to http://www.BlackCatFireworks.com.