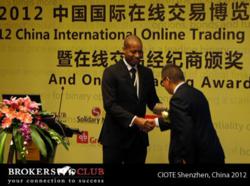 Brokersclub is the one to watch for exclusive high quality service
Shenzhen, China (PRWEB UK) 29 November 2012
Shenzhen, China: Brokersclub AG won the award for 'Best International Broker' at the CIOTE (China International Online Trading Exhibition) in China on the 24th November.
It was a big weekend for Brokersclub as they were announced the winner of the coveted prize in Shenzhen. The award was given for Brokersclub easy to use yet comprehensive platform and high quality international services. The Brokersclub group has taken effective steps to be one step ahead of the competition with a global focus on understanding local markets.
CEO, Leroy Lawrence of Brokersclub who received the award and gave a speech to his peers in china thanked them for the award on behalf of his colleagues. He commented "We wanted to create a service that is considered personal and conducive to an individual's growing wealth, both financially and of information. I think today's award shows that we are not only doing that, but doing it internationally and we hope to only get better"
The event was attended by many delegates from across the globe including money managers, Introducing Brokers, Traders, institutional investors, fund advisors and educational program providers.
With plans to expand its operations in China Brokersclub is the one to watch for exclusive high quality service in FX and the broader on-line trading market.