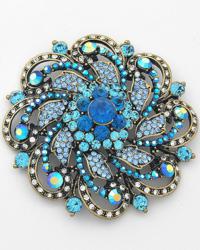 designed with a distinctive upscale look to compliment any wardrobe ensemble from silk to denim, daytime or evening
Glenview, IL (PRWEB) November 29, 2012
This classic multi-gem flower brooch is a must-have in anyone's jewelry wardrobe said the Great Ideas Group, a leading online retailer of unique fashion jewelry.
"It works wonders with any wardrobe, beautifully designed and crafted, the combination of turquoise and aqua colorations gives a distinctive upscale look to any wardrobe ensemble from silk to denim. All elements are hand set in an antique Silvertone finish. Clear crystals surround the brooch giving an appearance of sparkling diamonds. Just stunning. A real head turner!" said Marianne Crabtree, Creative Director.
"Customer feedback tells us that our flower brooches are fun to wear. Brooches are perfect coordinates to add to one's jewelry collection or as a Christmas gift. Our entire line of products arrive beautifully gift wrapped", adds Crabtree.
Great Ideas Group offers many different types of fashion jewelry including our Keepsake Pocket Heart Love Coins, charm bracelets, necklaces, brooches and special occasion gifts.
To learn more about our line of Brooches, or to browse our selection of fashion jewelry, please visit http://justaboutlove.com/brooch.html