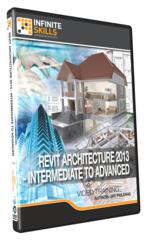 Learn Revit 2013 At Your Own Pace
(PRWEB) November 30, 2012
Software training firm InfiniteSkills Inc. last week introduced its "Advanced Revit Architecture 2013 Tutorial," an advanced course designed to cover the entire building design process from concept development to a complete site rendering.
Revit is a three dimensional architectural design modeling program that allows users annotate the model with 2D drafting elements and access building information from a building models database. Revit has tools for planning and tracking a building through the various stages of planning, building, and demolition.
InfiniteSkills' Advanced Revit Architecture Training Tutorial focuses on a single project, the construction of a Dinosaur Center, exploring the various phases of the design process in detail.
Advanced Revit Architecture 2013 Training Video
Course author Jay Polding is an application specialist focused on design implementation and training. He has more than 15 years' experience with design software, having focused heavily on Revit in the last 5 years. He helped start the Ontario Revit Users Group, and the blog, Revit in Plain English, which offers Revit book reviews and covers important Revit changes.
After a brief introduction to families and parameters in Revit, Polding explains how to set annotation standards, using tools such as title blocks, text, drawing dimensions, and bubbles that allow users to include important information in their models.
The course then focuses on designing the Dinosaur Center, beginning with the creation of a model of the initial site using an AutoCAD survey that links to Revit. Next comes the building file, where users learn to work with views, phases and objects, and link to structural Revit files. Other chapters cover adding elements such as walls, floors, and roofs, and editing them in Revit.
Polding then covers the publishing side of Revit, exploring how to create presentations using your Revit design files, how to produce sheets with various views, and finally how to use Revit's Worksharing feature to allow several users and consultants to do work on a model at once in an organized and streamlined workflow.
Free demo videos and a full list of course contents can be found on the Learning Python Programming Video training page on the company website:
http://www.infiniteskills.com/training/revit-architecture-2013-intermediate-to-advanced.html
InfiniteSkills offers the Advanced Revit Architecture 2013 Tutorial either as a DVD or a direct download from the company website at a retail price of $99.95. The course is also available bundled with the introductory Revit course, Learning Revit Architecture 2013 Training Video, at a discounted price of $149.95. InfiniteSkills tutorials are compatible with both Mac and Windows operating systems. Shipping is available around the globe. Additionally, InfiniteSkills tutorials are supported by project files which correspond to examples in the videos.
About InfiniteSkills Inc.
A leader in the field of software training, InfiniteSkills designs its courses on a task-oriented model, teaching complex skills by providing hands-on examples and guiding users as they carry out essential functions. InfiniteSkills offers a wide range of software titles available as DVDs, digital downloads, and in iPad editions, keeping with company aim of delivering professional training to customers anywhere they want to learn.