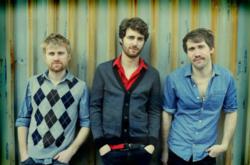 "Jukebox the Ghost play rambunctious pop music with the compact melodicism of the Beatles, the ambitious prog sprawl of Yes, and the persistent dance motion of New Order." – The Washington Post
Cincinnati, OH (PRWEB) November 28, 2012
Brooklyn pop trio Jukebox The Ghost return to Cincinnati with Matt Pond & The Lighthouse And The Whaler in The Ballroom at the Taft on February 12th.
General Admission tickets, $12 ADV and $15 DOS (plus applicable fees), go on sale Monday, December 3 at 10:00 AM at http://www.ticketmaster.com, http://www.tafttheatre.org, the Taft Theatre Box Office and all Ticketmaster outlets including select Kroger stores. Charge by phone at 1.800.745.3000.
Jukebox the Ghost's third album Safe Travels marks a period in the band's career that's steeped in change, both personally and professionally. Relationships dissolved and crumbled. Loved ones passed on. The band themselves relocated from Philadelphia to New York City and played over 200 shows since the release of their last album in 2010. In the midst of so much change, the band spent months in the studio creating what would become "Safe Travels", a record that represents a shift in the band's creative trajectory.
Safe Travels, at its core, represents three people going through universal life changes -- A way of coping with how quickly things can turn around, for good and bad. And though it's clear their sound and outlook have matured to addressing some darker subject material, their brand of upbeat pop still remains intact.
Bolstered by an appearance on the Late Show with David Letterman, an appearance at Lollapalooza, and extended opening tours with Ben Folds, Guster, Adam Green and Jack's Mannequin, the band has acquired an incredibly loyal (and sometimes rabid) fanbase since the release of 2008's "Let Live and Let Ghosts". Over the years, Jukebox the Ghost has maintained a tour schedule that most bands would balk at, playing over 150 shows a year and becoming a well-oiled, high energy live band. This summer, the band embarks on their biggest headline tour to date after performing at Bonnaroo on the album's release weekend -- Their Bowery Ballroom show in June has already sold out two months in advance.
They'd be the first to admit that their previous two records had a charming, "hyperactive" quality about them, but you don't get that sense here. There's a balance between the peppy piano pop of songs like the album's upbeat opener "Somebody", the bouncy synth-pop of "Oh, Emily" and the radio-ready drama of "Don't Let Me Fall Behind" to more poignant, contemplative songs in the album's second half that represent the band's desire to travel into new sonic territory.
"Even though we're tackling some difficult themes this go-round, we're still a band that wants people to feel good," said Tommy. "We're the same upbeat band we've always been, but we're firm believers that pop music can have depth."
On "Safe Travels", Jukebox the Ghost manages to contrast these darker themes with the same optimistic sound and a familiar sense of youthfulness that stays true to their core.
Matt Pond has already accomplished what few rarely do. A career musician with a die-hard following that continues to grow with each album, and a resume that includes the title song for a motion picture soundtrack, a long running Starbucks holiday commercial with a hook that's always stuck in our heads, selling over 100,000 albums to date; his success is matched only by his prolific outpouring of talent. But Matt takes those things with a grain of salt, in 'Lives' he shows us what's really important. With the new album, The Lives Inside the Lines in Your Hand, Matt Pond is stepping forward with striking honesty and humbling optimism and delivers his strongest work to date. Matt Pond is able to slough off the dead skin, radiantly revealing himself in his purest form- a feat many artists strive for, but rarely accomplish. The change symbolizes more than just coming out as an official solo act, it is also perhaps a symbol of letting go.
The Lighthouse and the Whaler is a band from Cleveland, Ohio, though its name alludes to the waters off the coast of Massachusetts. Inspired by a theme from Moby Dick, the band's name alone is enough to make underpaid Literature teachers beam with pride. It all started with two musicians -- Michael LoPresti and Aaron Smith -- who decided to collaborate in a field one sunny afternoon because that seemed nicer than playing in a basement. By the end of the day they had written their first song. They gave it a profound name: "The Field Song." When it was selected for a Paste Sampler CD, Aaron and Michael decided to make a proper run at it.