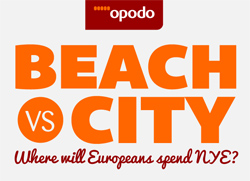 (PRWEB UK) 29 November 2012
Despite its distance across the pond, so far the Big Apple has taken the biggest bite of flight, city break and package holiday bookings in the UK, France and Italy. Only Opodo Germany's customers seem to want to see in 2013 more elsewhere, with Berlin in the top spot and New York trailing in at just 10th place. The full results are published at http://promos.opodo.co.uk/new-years-eve.
There is, however, full consensus on the best beach destination for New Year's Eve, with Bangkok currently the top choice across all countries, and second overall. Proving that she still hasn't lost her allure after her epic year, London is the third most popular choice overall - with only the French excluding the British capital from their top five.
New York's popularity has increased compared to last year. In 2011 it was not the overall top choice in any country, with the UK and France preferring Bangkok, Italy opting for Rome, and Germany not even counting it within the top 10.
While all countries agree on Bangkok as the top beach destination – for the second year running – there are wide differences in the second and third choices. UK travellers are opting for Cape Town and Sydney, the French for the Antilles and Réunion islands, and the Italians for Latino spirit in Miami and Rio. The Germans, meanwhile, are the only travellers with their heart set on short-haul sun and sand, favouring the Canaries and Turkey.
Opodo's data for UK travellers alone reveals very mixed requirements for the final night of 2012. The top 10 list is, in order: New York, Bangkok, Lagos (Nigeria), London, Cape Town, Sydney, Reykjavik, Dubai, Berlin and Johannesburg.
About Opodo.co.uk
Opodo.co.uk is one of the leading online travel agencies in the UK. Its website offers flights, hotels, city breaks, cruises, car hire and package holidays worldwide, and is used by millions of customers a year. Opodo is a leading pan-European online travel company. Founded in 2001 by nine airlines and now part of the ODIGEO Group, Opodo operates in 14 countries across Europe.