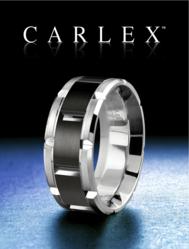 Rings are now considered as a means of measure, and this is one of the reasons why it is essential to wear a ring worth its weight.
Montreal, QUEBEC (PRWEB) November 29, 2012
Status symbols have manifested in modern times, evolving into more subtle forms, straying away from the traditional symbols of watches and automobiles. Rings are now considered as a means of measure, and this is one of the reasons why it is essential to wear a ring worth its weight. Much like a Super Bowl ring, the man that wears a Carlex ring does so because he is accomplished-he's a man of the world, a man of success and achievement. Mayors Jewelers, a carrier of only the most luxurious jewelry, agree. As a result, they have opted to add Carlex to their collection, securing Carlex a spot in the big leagues.
Founded in 1999, Carlex was launched by friends Thierry Bellisha and Haimy Mann. A division of CrownRing, Carlex was meant to be a line of luxury rings for men, inspired by the time-old symbols of the upper class, Cartier and Rolex. It was a line of rings that aspired for art to meet architecture, creating a high-end gamut of rings designed solely for the men worthy to wear them. The rings were more than jewelry—they were status symbols. With this recognition in hand, Carlex moved forward, pushing their luxurious and exclusive line of men's jewelry even further. Rewarded for their taste and hard work, Carlex was awarded the prestigious JCK Platinum Award in 2011. With this accreditation in hand, Carlex forged ever forward into the luxury jewelry market. The beauty of the handcrafted rings did not go unnoticed—Mayors Jewelers have opted to carry the men's line, opening up a place for Carlex in its selective lineup. Staring in winter 2012, Carlex will be keeping company with the likes of such brands as TAG Heuer, Montblanc, Dior and Breitling. The new Carlex line will be available at Mayors Jewelers across Florida and Atlanta, just in time for the holidays.
With roots in Ohio, Mayors Jewelers opened their doors in 1901, and went on to partner with the renowned Henry Birks in 2005 (mayorsandbirks.com). At first, Mayors was small business that dealt only in the cream of the crop, working with specially selected diamonds, gemstone and precious metals. Since then, Mayors has evolved into the behemoth name that it is today—it is where you go when you want to invest in the best. Mayor's decision to carry the Carlex line is to welcome the brand into the fold of a new caste.
About Carlex
Carlex is a sub-division of Crownring, a fine jewelry company founded in 1999. It is owned and operated by long-time friends Thierry Bellisha and Haimy Mann of Montreal, Quebec. The jewelry company specializes in creating precious handcrafted rings for men, and is excited to join leagues with Mayors Jewelers.