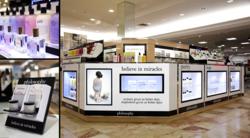 New York, NY (PRWEB) November 28, 2012
Open d USA, LLC, an international design agency is pleased to announce that it has just finished the installation of new caseline and shop concepts for the skincare brand Philosophy at several Macy's locations. The new design revolves around the idea of an open book which was created to allow for better product segmentation and increased consumer appeal by making each of the brands product line into a chapter of story. The design was made to be whimsical and educational while keeping with the brands identity.
The creative process was handled successfully by Open d's talented creative team, but the real achievement was to manufacture precisely what we designed. Respecting retailer guidelines while maintaining the brands vision and DNA was important to all involved. Open d is very proud to share that we managed to overcome this feat and now Philosophy has inviting, customer friendly spaces such as the counters at Macy's Pheasant Lane and new shop in shop located at the Westfield Mall Connecticut Post. Open d USA, Philosophy and Macy's are working together on a total of 20 doors that are scheduled to be completed soon.
About Open d Group
Open d Group opened in 2002 in Paris, France and has expanded to become an international design agency with locations in Dubai, Singapore, Hong Kong, Geneva, Beirut, Shanghai and New York. The group has 5 different entities within that specialize in different areas: MAD Agency- Product & Packaging for the Perfume and Cosmetics industry, Sparkle Agency- Product & Packaging for the Wines/ Spirit and Tobacco Industries, Open d Agency- for Visual Merchandising in all Industries, Well Done- for Sourcing & Manufacturing and Retail Access- Interior and Retail. The organization provides solutions for the many design and production needs of a brand.
Philosophy and Open d USA
Open d USA and Philosophy re-invented the global merchandising concept within the guidelines of the retailers in the U.S. such as Macy's, Sephora, Sephora inside JCPenney, Dillard's and Ulta. Open d USA managed the entire project making the agency a one-stop shop for Philosophy's Visual Merchandising Team. The company's signature Methology– Dream up (Creative), Design (Modeling and 3D rendering), and Deliver (Manufacturing and Installation) plus a little bit of Open d's secret sauce helped this project come together successfully.
To learn more about Open d Group in the US, please contact:
Marleny Almonte
636 Broadway, Suite 602
New York, NY 10012
Office: 646-454-9964