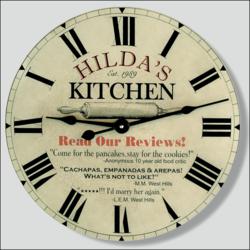 Create a one-of-a-kind gift for Mom to express how special she is to you!
(PRWEB) November 29, 2012
Looking for a holiday gift for Mom that tells how special she is – one where the family's love is reflected by the time put into the creation of this gift for her – a gift she will always cherish?
There are perhaps a number of gifts that might fit into this category, but John Borin Clocks has discovered a wonderful concept for creating a truly one-of-a-kind gift – one that will bring Mom to tears.
At John Borin Clocks an enamel coated steel dial clock is used as a "canvas" on which a custom design made just for Mom is screen printed – creating a clock that is a one-of-a-kind expression of the family's love.
Among the most popular clocks families create for Mom or Grand Mom are custom kitchen clocks. At the website you will see a variety of clocks that tell something about Mom such as:

Mom's favorite saying
Her special kitchen rules
The family's favorite dish
Cooking with love for … (with the children's names or signatures)
An image that reflects a hobby
Some families use the clock as an award for the "World's Greatest Chef" with the names of the young family members listed as judges.
On many clocks Mom is given a title such as Chef, Executive Chef, Proprietor, Owner, etc.
Some families have fun giving titles to the kids whose names can also be put on the clock. Some of these titles are Sous Chef, Assistant Chef, Gourmet Judge, Food Critic, Clean Up Crew, Kitchen Help, etc.
The ideas are limitless.
A feature that makes this clock so special for Mom is the plaque on the back of the clock where a special personal message may be added such as:
"Mom,
This clock is a constant reminder
that your family loves you
every minute of every day.
Love,
(Family Names)"
Check out the website at http://www.kitchenclocksbyjohnborin.com and create the perfect holiday gift for Mom or Grand Mom!
John Borin Clocks is a design studio in Dallas, Texas where custom clocks have been created since 1990. These clocks are screen printed with designs that have been specially created for each customer. Here, the clock is used as a canvas on which to create the perfect personalized gift. The designs are printed with enamel ink on an enamel coated steel dial just as was done 150 years ago.
In order to duplicate the look of the old clocks which used heavy-gauge steel hands, Mr. Borin has reproduced the old hand styles using the same material. These elegant hands are individually cut from heavy-gauge steel, giving each a unique character that simply cannot be reproduced in hands stamped from lighter materials.
To authenticate the clock, it is signed and dated by the maker upon completion. Mr. Borin's clocks have been featured in these magazines: "Food and Wine," "Country Living," "Coastal Living," "La Cucina Italiana," "Cabin Life," "Log Home Living," and "D Weddings."