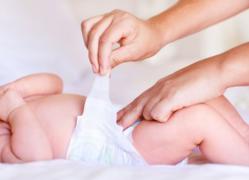 Parents are generally surprised to learn their newborn will use 2,500 to 3,000 diapers in the first year.
Cheyenne, WY (PRWEB) November 29, 2012
BabyGearLab.com, founded by pediatrician Dr. Juliet Spurrier with the mission of creating clarity around the entire decision-making process for baby products, today announced the availability of two new advisory guides to help parents choose disposable diapers wisely. These papers are written to assist new parents in understanding key considerations when choosing disposable diapers, and analyze the health and safety of materials and chemicals commonly found in disposable diapers.
"Choosing which brand of diaper to use is a key decision every parent faces," says Dr. Spurrier, "yet new parents are often uninformed about differences between brands, and how their choices may potentially affect the health of their baby." With regard to baby's health, Dr. Spurrier noted that many children have sensitive skin, "so parents are wise to pay special attention to a diaper's hypoallergenic status. Most diaper manufacturers let consumers know, however, if their products have latex, chlorine, perfumes, or dyes, which contain chemicals that sensitive babies may have allergies to, or present other potential health and safety concerns.
The article "What is Inside Those Disposable Diapers?" provides a detailed account of the chemicals commonly used in disposable diapers and offers an overview of their potential safety, health and ecological impacts. Beginning with a breakdown of the different layers in a typical diaper, the article discusses the possible toxicity of compounds commonly used in diapers such as traces of dioxins from the chlorine-bleaching process, compounds such as SAP (Super Absorbent Polymer), and Phthalates. The potential impacts of perfumes and dyes added to some disposable diapers are also discussed.
In the Disposable Diaper Buying Advice Guide entitled "How to Choose the Best Disposable Diapers," Dr. Spurrier notes that, "Parents are generally surprised when they realize that their newborn will use something like 2,500 to 3,000 diapers in the first year of life. Choosing the right diaper makes a difference in helping avoid rashes, can spare baby from exposure to potentially dangerous chemicals, and can make a significant impact environmentally." Fortunately, many disposable diaper manufacturers have responded to eco-health concerns by providing safer materials and greener choices such as partially biodegradable materials. BabyGearLab's comprehensive review and testing of 20 top brand diapers helped inform these guides, and includes a list of materials specifications as well as comparison ratings for each reviewed diaper.
About BabyGearLab
While practicing pediatrics in the Bay Area and pregnant with her son, Dr. Spurrier sought out a resource to help with the extensive list of purchasing decisions she had to make on behalf of her baby. Unable to find exactly what she was looking for, she started BabyGearLab.com around the time that her second child was born. Dr. Spurrier is a board certified pediatrician. She oversees review quality in her role as Mom-in-Chief and Founder of BabyGearLab.