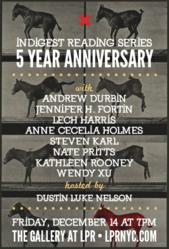 New York, NY (PRWEB) November 29, 2012
On December 14th InDigest, an online literary magazine, blog, and small press, will be celebrating their fifth anniversary with an event at Le Poisson Rouge by bringing in authors from all over the country who have published with InDigest since it's founding in 2007, including Lech Harris who published in the very first issue of InDigest. Readers include Andrew Durbin (New York), Jennifer H. Fortin (Syracuse), Lech Harris (Northampton), Anne Cecelia Holmes (Northampton), Steven Karl (Miami), Nate Pritts (Syracuse), Kathleen Rooney(Chicago), and Wendy Xu (Northampton), and will be hosted by InDigest Editor Dustin Luke Nelson.
Founded in 2007 in St. Paul, MN by Dustin Luke Nelson and David Doody as a monthly literary magazine published online, InDigest has expanded into a New York-based reading series, podcasts, an arts blog, broadside subscriptions, and a small press publishing poetry collections such as Brad Liening's We Are Doomed: Dispatches From the City of the Future. The magazine is currently edited by Dustin Luke Nelson, poetry editor Brad Liening, narratives editor Ashleigh Lambert, and blog editor Joseph Michael Owens. InDigest is the winner of a Best of the Net award, as well as multiple runner-up nominations for Best of the Net, and has been highlighted on the Best American Poetry blog. InDigest was also just listed by Poets & Writers Magazine as one of the best literary magazines to follow on Twitter.
About InDigest
InDigest is an online literary magazine and arts blog focused on creating a dialogue between the arts. While published on a quarterly schedule, the blog and podcasts are updated daily. InDigest recognizes that art does not take place in a vacuum and that categories are meaningless. We are interested in work that cannot be classified by genre, in good story-telling in all forms, and in artists whose curiosity drives them to push beyond the conventions of their media. Series on the blog include The Lyric Sheet, which features the written art of lyrics by presenting lyrics to songs that aren't yet released and has featured artists such as Beirut, Sharon van Etten, Richard Buckner, and more; InDialogue, a series that pairs artists working in different media for a discussion of process and their work; a recording journal series that has featured The Antlers, Franz Nicolay, Dark Dark Dark, and more; a Poem of the Day podcast; the InDefinite Podcast; There is No Fork, where Joe Owens explores the intersection of art and science; among many others. Founded in St. Paul, the InDigest Offices current reside in Astoria, NY.
About editor Dustin Luke Nelson
Dustin Luke Nelson is a founding editor of InDigest and the host of the InDigest Reading Series at Le Poisson Rouge. He is a 2012 National Poetry Series finalist and has recently had work published in the Greying Ghost Pamphlet Series, Opium, METRO Twin Cities, Scud, and elsewhere. He was a writer and producer on the podcast comedy Radio Happy Hour, which aired as a podcast as well as briefly on Minnesota Public Radio. He is also currently a producer of the online video interview series Geocachers. He lives in Astoria and at blogsareaboutego.blogspot.com.