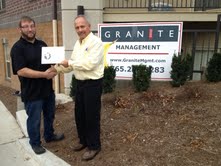 Flora, Indiana (PRWEB) November 30, 2012
Brenneco Fire Protection presented Granite Management of West Lafayette with the distinguished Sprinky Award last Wednesday, November 21st, 2012. Granite Management was commended for its diligence and commitment to fire safety. This award is bestowed on organizations that have gone above and beyond to safeguard their people from the threat of a fire.
"For a company with as many facilities as Granite Management, just keeping up with the minimum requirements can be difficult, but Granite Management doesn't stop with the minimum. The company makes a point to do everything possible to mitigate the risk of fire at all of its locations," says Eric Flora, owner of Brenneco Fire Protection. "We wanted to recognize Granite Management for continually working to ensure they have the best safeguards in fire protection in place."
For the past 16 months, Brenneco Fire Protection performed services and inspections at all Granite Management locations in the Lafayette and West Lafayette area. Services include fire sprinkler inspections, fire extinguisher inspections, fire system repairs and backflow testing.
"First and foremost, we care about the safety of our residents. We strive to be intentional about assessing each one of our properties and trying to minimize the likelihood of potential fire safety issues. Brenneco Fire Protection has been a key component in helping us do that and we're grateful for their help and recognition."
Past recipients of the Sprinky Award include the Kokomo Civic Center, City of Lafayette, IU Health Arnett and Cook Biotech.