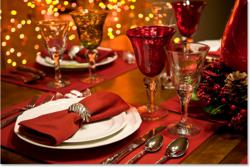 This event went much smoother than past years!
Minneapolis, MN (PRWEB) November 29, 2012
Rotary Club of Maple Grove held their annual Holiday fundraising auction Saturday, November 17th. Event Payment Services coordinators were in attendance to administrate:

Pre-registration of attendees
Data entry of bid items and silent auction donations
Collection and distribution of silent auction items for orderly checkout and pickup
Supervising volunteers throughout checkout and pickup
With over 300 items donated by club members, there were plenty of items for bid by attendees. A Keurig coffee maker, Ray Bans sunglasses, a "Wall of Wine," a shopping spree, and a golf package were just a few of the many items donated, which led to a huge success in donations.
"This event went much smoother than past years!" was a frequently-made comment stated by attendees. Event Payment Services made ePSPay™ of attendees quick and easy through their unique payment application, and made sure each bidder left with their winning items, through no-hassle registrations and friendly customer service.
About Event Payment Services: Event Payment Services was created by BancCard Financial Services, Inc. (BFSI) to specialize in the fundraising needs of nonprofit organizations. ePSPay ™ and WeRaiseIt are brands of Event Payment Services. Since 1997, BFSI has provided credit and debit card processing, check verification, check conversion/imaging, gift and loyalty card services, and merchant processing terminals. BFSI provides these services through its terminals and web-based software. EPS was created in 2006 to focus on the fundraising needs of nonprofit organizations. BFSI, through ePSPay ™ and WeRaiseIt brands, is an innovator in fundraising tools for the nonprofit world. BFSI, EPS and WeRaiseIt can be found on the web at http://www.eventpaymentservices.com, http://www.weraiseit.com.
###