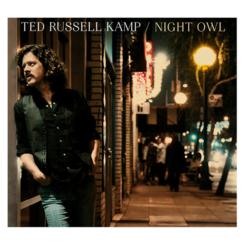 Ted Russell Kamp is 'one of the most underrated songwriters in the business today… a born storyteller… in the tradition of great troubadours like Guy Clark.'
Sausalito, California (PRWEB) November 29, 2012
The latest edition of the Blackwing Sessions, an online series that explores creativity in music and songwriting, will feature an exclusive performance by Ted Russell Kamp and, for the first time, air live at Pencils.com on THURSDAY, NOVEMBER 29th.
The event will be broadcast in its entirety at Pencils.com/Studio602 beginning at 2:30 PM PST from Louville Studios in Sausalito, CA with an inside look at rehearsal and show setup. The main performance will begin at 6:00 PM PST and celebrate the release of Ted's latest album "Night Owl" on PoMo Records. Ted will play selections from "Night Owl" while discussing the creative process and inspiration behind his music.
Shortly after the conclusion of Ted's set, viewers will be treated to a live performance by multi-instrumentalist Christian Tamburr and guitarist Mimi Fox whom Guitar Player Magazine calls "a prodigious talent who has not only mastered the traditional forms but has managed to reinvigorate them."
"We try to provide our customers and fans with entertaining content that allows them to better express their own creativity," explained said Charles Berolzheimer, founder of Pencils.com. "The Blackwing Sessions is another way to do that while bringing attention to musicians who create with Blackwing pencils."
"Night Owl" will be officially released on January 22, 2013 but a limited number of CDs are currently available at Pencils.com.
About Ted Russell Kamp:
Ted Russell Kamp is a Los Angeles-based singer, songwriter, producer and multi-instrumentalist. Well known as the long time bassist and collaborator for Shooter Jennings, No Depression Magazine calls Ted "one of the most underrated songwriters in the business today… a born storyteller… in the tradition of great troubadours like Guy Clark."
About BLACKWING:
Introduced in the 1930's but discontinued in the mid 90's, the Blackwing 602 was the pencil of choice for Grammy and Academy Award winning artists. After demand sent prices of a single Blackwing pencil up to $40, the Blackwing was brought back in two distinct models, the Palomino Blackwing for artists and composers, and the Palomino Blackwing 602 for writers and everyday users.