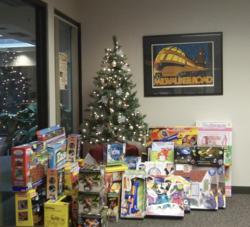 I feel a strong connection to this Toy Drive. My goddaughter, Rayvin, spent the majority of her first year of life at Children's Hospital
Brookfield, Wisconsin (PRWEB) November 29, 2012
During the months of November, December and January many Inlanta Mortgage branches and employees are opening their hearts to various charities and organizations to help those in need.
The Inlanta New Hampshire branches are participating in the popular Movember movement. A number of the male employees are growing out their moustaches to bring awareness and raise funds for men's health, specifically prostate and testicular cancer. Money raised will go to the Prostate Cancer Foundation and the LIVESTRONG Foundation. One of the team's members, Senior Loan Officer John Dahlinger, joined the movement because the cause is close to his heart.
"I decided to grow a mustache for Movember to raise money to help fight prostate and testicular cancer. I lost my father to cancer and now take part in many cancer walks, awareness and drives," Dahlinger said.
You can donate to the Inlanta "Mo"gage team by visiting them at: us.movember.com/team/550213.
At the Brookfield West, Wis. branch, employees are holding a toy drive to benefit the Children's Hospital of Wisconsin. All toys donated will help brighten and make the holidays much more joyful. This is the third year they've held the toy drive and are hoping to improve upon last year's donation, but need help from community members.
"I feel a strong connection to this Toy Drive. My goddaughter, Rayvin, spent a majority of the first year of her life at Children's," Loan Officer Dan Dahlen said. "Every night after work I would spend a few hours at the hospital. Walking in those doors never got easier, so many innocent children fighting for the health that the rest of us take for granted. I know that a toy isn't going to take away the pain, but if it helps for even a minute then it's worth it."
New, unwrapped toys can be dropped off at the Brookfield West location, 611 N. Barker St., Suite 201, now through Dec. 19. You can also go to your favorite retailer and have your purchases delivered directly, or donate cash.
The Hales Corners, Wis. branch is holding a blood drive on Jan. 15 because the cause hits close to home for Branch Manager Tracy Anderson. Back in 2003, Anderson had firsthand experience on the gift donated blood can provide and made a promise to herself to do what she could to help other families.
"I want to keep my promise now and give blood so maybe I can help save someone else's child and give someone else a fighting chance," Anderson said. "I'm asking for everyone's help to reach our goal!"
Anyone interested in donating can call 800 Red Cross or visit redcrossblood.org. The Inlanta Mortgage Blood Drive will be held from 10 a.m. to 3 p.m. You can also call Tracy for more information, 414-425-9555.
About Inlanta Mortgage
Headquartered in Brookfield, Wis., Inlanta Mortgage was established in 1993. The company has grown to 33 branches in 15 states and over 220 employees. Inlanta Mortgage provides its partner branches with Fannie Mae/Freddie Mac agency products, as well as a full suite of jumbo and portfolio programs. The company is delegated FHA/VA, FHA 203K and USDA approved.