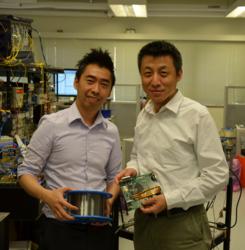 (PRWEB) November 29, 2012
The Photonics Research Centre at The Hong Kong Polytechnic University (PolyU) has recently achieved breakthrough in the research of high-speed optical communications by increasing the speed of optical communication networks by 40 times. This breakthrough has attracted the attention of Huawei Technologies Co. Ltd., a leading global Information and Communications Technology (ICT) solution provider, to provide funding and equipment for further developing the leading-edge technology and filing patents.
The research was jointly undertaken by Professor Alex Wai, PolyU Vice President (Research Development), Professor Chao Lu of the Department of Electronic and Information Engineering, Professor Hwa-yaw Tam and Dr Alan Pak-tao Lau, Chair Professor and Assistant Professor of the Department of Electrical Engineering respectively. "With this breakthrough, one can download over 177-hours-worth of YouTube video in a second," Professor Wai said. The findings have also been published in top international journals such as Optics Express, Photonics Technology Letters and Journal of Lightwave Technology.
The development of optical communications has made steadfast advancement since the invention/discovery of fibre optics by Professor Charles Kao, Nobel Laureate in Physics and former Vice-Chancellor of The Chinese University of Hong Kong. Over the years, fibre optics has formed the backbone of modern information technology. With the increasing dominance of smart mobile devices and bandwidth-hungry applications such as cloud computing, YouTube, Facebook and other social network activities, the overall speed demand are increasing at an unprecedented rate and major telecommunication service providers are incessantly looking for technological breakthroughs that could further push the network speed limits.
The speed of optical communications largely depends on distortions of the information signals generated from its interactions with silicon dioxide molecules that make up optical fibre. However, the higher the speed of information transmission, the more likely the signal will be distorted. When such distortions are large enough, detection errors will occur at the receiving end. If the information cannot be correctly transmitted, the whole communication system will be considered useless.
Currently, the most commonly deployed optical communication systems operate at 10Gb/s, i.e. 10 billion binary digits (bits) per second. Professor Lu and Dr Lau have cleverly combined optics, statistics and signal processing technology that greatly increase the speed of network by 40 times, i.e. 4 trillion bits per second. In particular, based on experimental observations, they found that distortions of the light signal generated from silicon dioxide molecules inside an optical fibre are not totally random. In fact, the distortions follow certain statistical characteristics.
PolyU researchers therefore proposed the use of "coherent detection", in which optical signal is first converted into electrical signal so that the data information can be preserved. This is followed by the use of more mature electronic signal processing technologies extensively used in all computers, smartphones and the like. This latest technological advance has attracted the attention of Huawei.
A Huawei spokesperson said, "A lot of universities have come up with innovative ideas that sound really out-of-the-box at first glance. However, most of them cannot overcome physical and cost constraints that the idea cannot make their way to a commercial product. From the industry standpoint, the deliverables of this PolyU research are cost-effective and can meet the practical needs of our society, bringing real benefits for mankind."
"We are pleased to see that leveraging on its strengths in scientific research, PolyU has successfully developed the fastest optical transmission systems with significant cost effectiveness. This really helps us to maintain our lead in the industry and lay down a solid foundation for our sustained growth in the future," the spokesperson added.
About Huawei
Huawei, a leading global information and communications technology (ICT) solutions provider, is dedicated to customer-centric innovation and strong partnerships. Its competitive solutions and services have been deployed in over 140 countries, serving more than one-third of the world's population. Every Huawei innovation stems from close interaction with its customers to understand their needs and market demands. Huawei annually invests an average of 10% into R&D and 44%, or 62,000 employees are currently engaged in R&D. In 2011, Huawei increased its R&D investment to USD 3.76 billion representing 11.6% of total annual sales revenues.
*****
Press contact: Professor Chao Lu
Department of Electronics and Information Engineering
Tel: (852) 2766 6281
Email: enluchao (at) polyu (dot) edu (dot) hk
Press contact: Dr Alan Pak-tao Lau
Department of Electrical Engineering
Tel: (852) 3400 3346
Email: eeaptlau (at) polyu (dot) edu (dot) hk