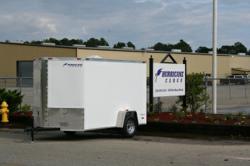 The people we have been able to get, as a result of unemployement rates, have been the key to our success.
Fitzgerald, GA (PRWEB) November 29, 2012
Hurricane Cargo Inc, a manufacturer of cargo trailers in South Georgia, announces that it hit its job creation goals almost one year early. After losing thousands of jobs as the economy took its toll on the manufactured housing and RV industry, the small city of Fitzgerald, Georgia, invited Hurricane Cargo Inc to start its innovative factory in a city owned facility where RV trailers were built during the aftermath of Hurricane Katrina. In return for the use of its facility and other incentives, the Fitzgerald Economic Development Authority, asked for a minimum of 100 new manufacturing jobs with in 3 years. Before the three year mark, Hurricane Cargo had announce it had hired 150 employees.
The economy has taken its toll on jobs and business; and certain areas in South Georgia were hit as hard as anywhere in the United States. But as maufacturers in South Gergia closed their doors, it left opportunities for companies that would have other wise never opened. Hurricane Cargo is a great example.
"5-7 year ago, when things were booming, there wouldn't have been room for us in the marketplace," said Mike Gatewood, President of Hurricane Cargo. "Before the economy turned, buildings like this were occupied by large RV companies like Coachman and Frontier RV. They were building FEMA trailers in the wake of Hurricane Katrina and business was good. It would have cost us twice as much to open in those days, so it could have never happened. As business' closed it made real estate and experienced personnel available. The people we have been able to get as a result of the higher unemployment rate have been the key to our success."
The marriage has been a good one. The city lured Hurricane Cargo with its abundance of skilled workers. Hurricane Cargo lured the city with its plan of changing the way the enclosed trailers were built and sold. Since Hurricane's business model is one where trailers are built and sold directly to the end user, it has saved thousands of customers money and brought S. Georgia over 35 million in out of state dollars. Dollars that, development authority leaders say, will be turned over or spent 7 times in the local economy.
"I believe what makes America great is that we never roll over and quit, We are clutch players, our employees have done what it takes to grow the company and improve their working environment," says Gatewood.