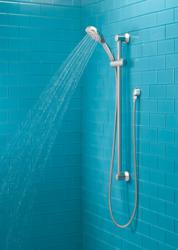 "'Sustainability with performance' is a mantra at Moen – we actually call it 'Eco-Performance,'" said Jack Suvak, senior director of market research and insights, Moen.
North Olmsted, Ohio (PRWEB) November 30, 2012
Consumers are no longer interested in sustainable products just for the sake of being green. Today, they are driven by a "consumers in control" mindset – and are increasingly in control of their decisions. They demand sustainable products that not only perform, but also make it easy to be green. If a green product has a cost or functional benefit over conventional products, only then does it makes sense (or cents!). This collision of "consumers in control" with the trend of sustainable product offerings is what Moen is calling: "Cents and Sustainability."
Cents and Sustainability
Consumers know that a greener home is a healthier home…and categories from furniture to fixtures are quickly following suit to help homeowners do the right thing, while also saving money. Today's consumers want – and believe they can have – it all: green that is convenient, affordable and that doesn't sacrifice performance. The notion that the recession has stalled the green movement is not quite an accurate assessment. What has surfaced is a new pragmatism about the environment that embraces restraint, simplicity and cost-savings. As a result, consumers are re-evaluating what green really means.*
According to McKinsey & Company, saving energy for energy's sake is a low priority. But if there is money to be saved, people get more interested. Consumers cite saving money as a top reason they are requesting green homes or remodels, according to 2012 survey data of builders and remodelers from McGraw Hill Construction. The survey also found that the additional cost required to complete a green remodel represents the biggest obstacle for consumers.

Energy management systems top the list of features growing the most in popularity, with 52 percent of respondents reporting increases in popularity, and only four percent reporting declines.**
Solar panels, geothermal heating and cooling systems, and water reclamation systems are all increasing in popularity, although they are not mainstream in most markets.**
Eco-Performance Products from Moen - "'Sustainability with performance' is a mantra at Moen – we actually call it 'Eco-Performance,'" said Jack Suvak, senior director of market research and insights, Moen. "We believe that exciting design innovation and quality performance motivates consumers to buy our products. And the water-saving function becomes an added bonus."
Moen has a full line of water-efficient products which offer the same – if not better – performance than their traditional counterparts. From flow-optimized kitchen and bathroom faucets to high-efficiency showerheads, Moen has created an array of water delivery systems that incorporate technology to help maximize performance and minimize waste – while using up to 32 percent less water than the industry standard.
"The concept of 'going green' has come a long way in the last decade, especially due to the recession," added Suvak. "As consumers become smarter about the environmental, practical and economic impact of their product choices, manufacturers will need to continue to push the limits on their offerings to meet these sophisticated demands."
For more information about consumer behavior trends from Moen, visit moen.com.
###
According to Moen research
** AIA 2012 Home Design Trends Survey
About Moen
As the #1 faucet brand in North America, Moen offers a diverse selection of thoughtfully designed kitchen and bath faucets, showerheads, accessories, bath safety products and kitchen sinks – each delivering the best possible combination of meaningful innovation, useful features, on-trend styling and lasting value.
Moen is part of Fortune Brands Home & Security, Inc. (NYSE: FBHS), which creates products and services that help fulfill the dreams of homeowners and help people feel more secure. For more information, please visit http://www.fbhs.com.
Contact:
Jennifer Allanson or Jamie Dalton
Falls Communications
(216) 696-0229
jallanson(at)fallscommunications(dot)com or jdalton(at)fallscommunications(dot)com