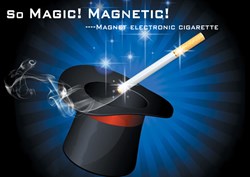 (PRWEB) November 29, 2012
In early November, the world's largest Electronic Cigarette manufacturer KIMREE issued a Magnet type electronic cigarette named "Magnet Electronic Cigarette". After released, this electronic cigarette caused the industry's strong concern, and was known as the magic wand in electronic cigarette by many electronic cigarette brands.
"Magnet Electronic Cigarette is one of many new type electronic cigarettes in our company. It adopts our many patented technologies, and it's the first time using a Magnet system to combine smoke cartridge with battery in the electronic cigarette industry, and breaking the traditional screw nut combination. It can be more convenient to charge and replace smoke bomb." KIMREE R&D director Nicole said.
After trying a KIMREE Magnet Electronic cigarette, Bonn, the purchasing manager of a well-known Electronic Cigarette brand, said: "Magnet Electronic Cigarette which KIMREE R&D produced is the best electronic cigarette I have ever seen. It relies on KIMREE strong quality control and R&D strength, cannot only meet the needs of smokers to smoke, but also can give smokers and nonsmokers sufficient imaginary space. This Electronic cigarette makes me feel that my body is filled with boundless magic."
KIMREE sales director Andre stressed: "This is just one of our many electronic cigarette types. Many buyers thought that KIMREE is only quality first, but few design. In fact, KIMREE model design is very rich. In guaranteeing product quality, we add two or three new models semiannually to our product list.