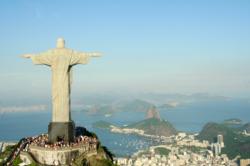 (PRWEB UK) 30 November 2012
As excitement mounts in the build-up towards the 2014 World Cup and the 2016 Olympic Games, the Brazilian government is predicting that the economy will grow at an annualised rate of 4% or above for 2013, a figure which has no doubt been assisted by the amount of Foreign Direct Investment (FDI) pouring into the country over the past 12 months.
A recent report by Ernst & Young Terco estimates that FDI into Brazilian real estate can be counted at between R$5bn and R$10bn in 2012 so far, perhaps fuelled by the much publicised Accelerated Growth Program (Programa de Aceleração de Crescimento, PAC) which was implemented to improve the country's infrastructure in preparation for both sporting events.
With an estimated R$800bn allocated to the programme, which includes repairing and upgrading the roads and the construction of a high speed train linking Sao Paulo and Rio de Janeiro, savvy investors are seeking out prime plots of land and real estate now, while prices are still affordable and the possibility of capital appreciation is high.
Specialists at selling property in Brazil for many years now, global property firm Knight Knox International has recognised the increased investment potential in the country and has just launched three new land plot sites, which offer terrific value to investors.
"Land plots in Brazil are the perfect example of an investment opportunity that has a great potential for capital appreciation", comments Mike Sefton, Property Consultant at Knight Knox International.
"Great locations, amazing price points and more importantly – planning permission, are all important factors when purchasing land, which is why we have only sourced projects that we are confident will deliver strong returns for our clients",
Rio Hills Land Plots
Ideally situated on Rio de Janeiro's picturesque hills, these spacious land plots are available 100% freehold and pre-launch prices start from as little as £21,076.
Construction licenses are in place on all lots and an experienced management company is in place should investors choose to build on the land. Located in an up-and-coming area with stunning lake and mountain views, owners are just 45 minutes away from downtown Rio.
The Plantation Land Plots
The Plantation is a magnificent coastal sanctuary and development opportunity covering 168.5acres of prime Brazilian land. Divided into individual plots which all have planning permission for high standard villas, The Plantation is located in The Discovery Coast, Bahia. A tropical paradise and a favourite holiday/retirement destination for wealthy domestic Brazilians.
Prices start at £30,000 for a 366sqm plot. With over 65% of the plots already sold, investors are advised to register their interest now to ensure they can take advantage of this fantastic investment opportunity.
Caponga Beach Land Plots
Located 35 minutes south of the vibrant city of Fortaleza, the Caponga Beach Resort has planning permission for 600 villa plots on approximately 80 acres of land. Starting at £12,000 for a 250sqm plot of land, investors can be reassured by the amount of infrastructure already in place, including roads, curbs, street lights etc, making this one of the most attractive investment opportunities to hit the Brazilian market.
Knight Knox International
Market leaders at selling investment and lifestyle property in both the UK and overseas, Knight Knox International are specialists at selling property to the private investor market, gaining exclusivity on the majority of its projects, through long-standing and hard-won relationships with renowned developers and contractors.
To enquire about any of the properties featured in this release, or for further information on the full range of properties available through Knight Knox International call +44 (0)161 772 1370.