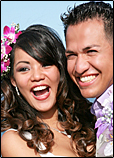 Waikiki, HI (PRWEB) November 30, 2012
Maui'd Forever is offering members of the press substantial discounts on weddings, vow renewals and even travel packages to the Hawaiian Islands. A member of the press wanting to do a destination wedding, vow renewal or civil union can now do so for only $150.
Mark Steffan, President of Maui'd Forever says "Normally our least expensive Hawaiian wedding package is $299. Further discounts and even getting a free service is possible when that press member does a story on our services".
This inexpensive option is available at most Hawaiian beaches and is subject to availability. To take advantage of this limited time offer one must book prior to 12-31-2012 and use the service before the end of 2013.
Mr. Steffan also tells us they can offer discounts on already inexpensive travel packages to Hawaii. Those members of the press interested in this offer must book prior to the end of the year for this travel bargain to Hawaii.
This wedding planning company offers its services on Oahu, Kauai, Maui and the Big Island of Hawaii. The majority of weddings and vow renewals take place in Oahu with the most popular being Duke Kahanamoku Beach in Waikiki.
The only other consideration a member of the press needs to concern him or herself with is to get the marriage license if looking to wed or have a civil union ceremony. This is a very easy process. There is an additional $65 cost for the State of Hawaii with no discounts available.