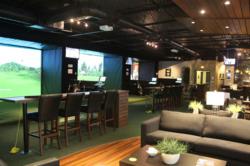 "We are excited about our grand opening event and the opportunity to introduce more people to the world of indoor golf," said Owner Jeff Sproat. "It's a great alternative to golfing outdoors and once people try it, they love it."
Tampa, FL (PRWEB) November 29, 2012
Golfer's Grail Indoor Golf & Tap, located at 10019 N. Dale Mabry Highway, will hold its grand opening event Saturday, Dec. 1, 2012, from 11 a.m. – 3 p.m. Golfer's Grail combines state-of-the-art golf simulation technology and a golf club atmosphere to create the perfect experience for professional, casual and junior golfers, as well as families and groups.
The grand opening event provides first time indoor golf enthusiasts an opportunity to become familiar with playing golf indoors. Contests and raffles will be held for items such as a brand new RocketBallz 3-Wood (R/H) with head cover, indoor golf gift cards and more. There will be free food and 50 percent off craft beer.
"We are excited about our grand opening event and the opportunity to introduce more people to the world of indoor golf," said Owner Jeff Sproat. "It's a great alternative to golfing outdoors and once people try it, they love it."
Golfer's Grail features high-definition simulators which allow golfers of all experience levels to play on over 50 courses from around the world. There are games offered for non-golfers too. The indoor golf facility hosts competitive leagues and offers lessons. Customers can also use the location for personal and business functions.
Craft beer choices include Stella Artois, Pipeline Porter, Old Elephant Foot, Blue Point Winter Ale (seasonal), Frog Hair. Domestic beers offered are Bud Light, Shock-Top and Michelob Ultra. Wine selections are also available and food can be delivered from a diverse choice of nearby eateries. High-definition televisions are located throughout, so visitors can play a round of golf and not miss the big sporting events or favorite television programs.
About Golfer's Grail Indoor Golf & Tap
Located in Tampa, Fla., Golfer's Grail offers golfers of all experience levels a comfortable and
cool environment to play indoor golf on accurate, high-definition simulators. Golfer's Grail is open Monday-Friday from 11 a.m.-10 p.m., Saturday from 9 a.m.-10 p.m. and Sunday from 12 p.m.-8 p.m. For more information about Golfer's Grail, call (813) 969-2100, email info(at)golfersgrail(dot)net or visit http://www.golfersgrail.net.