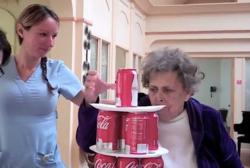 Many people mistakenly believe that therapeutic recreation is merely about providing entertaining games such as bingo. It's so much more than that.
BOCA RATON, FL (PRWEB) November 30, 2012
Whitehall Boca Raton has earned the highest organization/institution award possible from the American Therapeutic Recreation Association (ATRA), a distinction granted to the Boca Raton-based skilled nursing facility for its advocacy and support of services to individuals with disabilities.
It is the first time the organization has given the award to a nursing home.
ATRA, founded in 1984, is the largest national membership organization representing recreational therapists, who work in a variety of community and healthcare venues using recreational therapy to enhance functioning in people of all ages with illnesses or disabling conditions. Recreational therapists incorporate a wide mix of activities that help people improve cognitive, emotional, socialization, and both fine and gross motor skills.
In awarding Whitehall Boca with its top honor, ATRA lauded the facility for its:

Aggressive diligence in promoting recreational therapy and an understanding of its value;
Heightening awareness of the discipline by creating dozens of YouTube videos specifically intended to educate the public on rehabilitation techniques;
Hosting professional conferences for four years;
Heading the effort for state licensure by organizing participation by clinicians throughout Florida;
Promoting understanding of the profession by working with legislators.
"You know, people understand what physical and occupational therapies are all about," said Allyson Dedic, director of Whitehall Boca's Therapeutic Recreation Department, "but many mistakenly believe that therapeutic recreation is merely about providing entertaining games such as bingo. It's so much more than that, and I'm fortunate that Whitehall has always championed our program and outreach efforts to help the public understand the discipline's therapeutic value. The award by ATRA is the highest honor I could ever imagine receiving and I'm proud to be part of a skilled nursing facility where I can work with such a diverse group of healthcare professionals."
--------------------------------------------
Whitehall Boca Raton is a 154-bed skilled nursing and rehabilitation facility specializing in short-term rehabilitation and long-term care. It was opened in 1982 and is an independently-operated company. It is a 2012 recipient of the Bronze Award by the American Health Care Association for outstanding quality care, was recognized in 2010 by Dorland Health for excellence in its rehabilitation programs and in 2009 was named "Facility of the Year" by the National Association of Health Care Assistants.