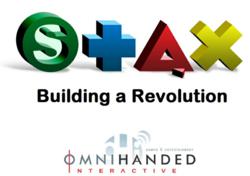 ...STAX is every bit as enjoyable when used to teach or advertise as it is when played just for fun. That's a powerful statement that cannot be made about most other games.
Canton, MI (PRWEB) November 30, 2012
OmniHanded Interactive (OHi) announced last week that they plan to publish STAX: The Game, a revolutionary card-based puzzle game with a natural adaptability to education and advertising in addition to its' profound entertainment value. STAX is currently under development in Canton, Michigan and is planned for release in April, 2013.
"We expect big things from STAX" says OHi President Steve Henney. "Our tagline is 'Building a Revolution', because STAX is every bit as enjoyable when used to teach or advertise as it is when played just for fun. Down the road, we plan to introduce a fully integrated classroom system where educators can use STAX to teach, reinforce, test, and, using real-time performance metrics, adjust lesson plans to address individual students' teaching needs. The standard version is extremely fun and the advertising version is also an unparalleled vehicle for brand recognition and product marketing, but it's the education version of STAX we're most passionate about in terms of making a positive impact on national and global education."
When Henney was asked about the potential for STAX in education, "…someday we want the 'STAX Method' to replace multiple-choice fill in sheets as the preferred way to test student-mastery of any and all academic learning. Our flexibility allows us to gauge retention & understanding of school subjects at a much more detailed level…and that's not to mention STAX also teaches those subjects in the classroom itself. You cannot say the same thing about a Scantron sheet…"
OmniHanded Interactive is currently seeking additional resources to develop, among other things, their hardware and software suite for STAX Integrated Classroom (S.I.C.) and to finish their primary logic algorithms needed to create puzzles, assign difficulty levels to them, and calculate all possible solutions for each arrangement. Scheduled for release in early-April, 2013, STAX: The Game will first be available on Android / Windows Mobile / iOS devices and physical decks of cards, followed thereafter by PC & Mac versions.
"We are asking everyone we know to visit our Kickstarter.com project page to read more about STAX and watch a series of videos. They will also be linked to a functional demo version of STAX available to play for free on our website for the duration of our project." says Henney. "We are certain that STAX will make a huge impact on learning, and we're proud to be building it here in Metro-Detroit. Right now we're using my (Canton, MI) house as our base of operations, but I'd love to move our headquarters into the city - when we have the resources to do so - and become a part of Detroit's growing resurgence."
Click here to visit the OmniHanded Interactive website. From there, visitors are linked to the free online demo version of STAX and to OHi's Kickstarter page as well. Their project is active on Kickstater until December 19th and offers the general public a chance to pre-purchase the game packaged with a multitude of exclusive premium items. According to Henney, "...the gameplay instructions for STAX are not posted on our homepage nor on the game demo page; we've included them only in the Kickstarter project description as extra motivation to visit Kickstarter and consider supporting the STAX project. Aside from monetary pledges, one of the best ways to do that is by visitors sharing all the links to our pages with their own social and professional networks..."
For more information, contact:
OmniHanded Interactive
P.O. Box 851410
Westland, MI 48185
Tel.: (734) 895-7097 / Fax: (734) 895-7193
info(at)omnihanded(dot)com