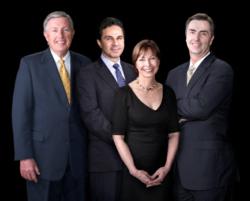 Strattice can reduce visible wrinkles, ripples and uneven contours.
La Jolla, Calif (PRWEB) November 30, 2012
Noted San Diego based plastic surgery team of Smoot, Sadrian and Hollan are pleased to announce their use of a newly developed medical breakthrough, designed to minimize risks associated with breast reconstruction and surgical procedures. Originally developed as an alternative to skin grafting in burn patients, Acelluar Dermal Matrix (ADM's) or Strattice™ Reconstructive Tissue Matrix have played vital roles in other types of reconstructive surgery. Their use to "bolster" the lower border of the reconstructed breast helps to avoid some of the potential restrictions and pitfalls of other reconstructive techniques following mastectomy.
Produced by LifeCell™, Strattice™ Reconstructive Tissue Matrix is a sterile reconstructive tissue matrix obtained from porcine dermis, which is lauded for its flexibility and strength. Strattice™ Reconstructive Tissue Matrix controls breast implant location, acting as an "internal bra" to support the implant and aids the surgeon in controlling the pocket size. Additionally, Strattice can reduce visible wrinkles, ripples and uneven contours.
According to a study conducted in the June issue of Plastic and Reconstructive Surgery, ADMs produce favorable outcomes without serious risks, when used for breast reconstruction after mastectomy for breast cancer. A review conducted by American Society of Plastic Surgeon (ASPS) member surgeon Scot B. Glasberg and David Light, MD of Lenox Hill Hospital, New York details the use of two types of ADM materials in the initial stage of breast reconstruction.
The surgeons reconstructed a total of 270 breasts using ADMs. Initially, they used ADMs created from donated human skin (AlloDerm®). Later, a second product made from pig skin (StratticeTM) was adopted. After analyzing the results, Glasberg and Light concluded the overall complication rate was higher with AlloDerm compared to Strattice: approximately 21 versus 6 percent.
Though originally used for reconstructive purposes, Dr. John Smoot recognized Strattice's ability to promote the successful outcomes of cosmetic breast enhancement procedures. Notes team member Dr Carol Hollan, "The application of Strattice™ Reconstructive Tissue Matrix represents a significant leap in the advancement of breast reconstruction. We are one of the few West coast medical groups to offer this exciting and cutting-edge technology."
Each team member at the La Jolla, CA based office has now adopted and implemented Dr. Smoots techniques with their own patients. Despite its significant expense in regards to cosmetic procedures, the cost of Strattice is the best value and provides exceptional results.
Smoot, Sadrian and Hollan have been in practice for over 20 years. The surgical center for the practice has three fully accredited surgical suites, a recovery unit and a qualified nursing and support staff of 22 members as well as a Laser and Skin Care Clinic, utilizing the state-of the-art Sciton XC laser. The facility is located in the Ximed building on the campus of Scripps Memorial Hospital La Jolla, CA. Visit http://www.sandiegoplasticsurgeryclinic.com or call (858) 587-9850.