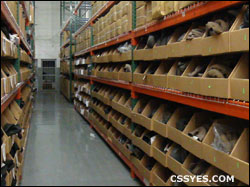 It's vital that shipping and inventory logistics are seamless. The process of service and quality control are made possible by having an organized storage and shelving system in place."
San Diego, CA (PRWEB) November 30, 2012
Emerging yoga accessories heavyweight ToeSox, Inc. reaches for custom racking as a storage solution for anticipated sales increases after releasing new products this fall. In addition to supplying retail customers with the company's popular no-slip yoga socks with grip, ToeSox, Inc. has steadily added clients in the wholesale market both in the U.S. and internationally thanks to online sales and philanthropic efforts in the yoga community.
ToeSox, Inc. began as a small business operating out of a garage eight years ago, said ToeSox, Inc. representative Sara Snyder. Within a couple of years, the company acquired its first office with warehouse space but consumer demand for the durable, trendy yoga footwear soon required more efficient inventory and storage solutions. Their current warehouse triples their original location, with enough custom racking to prevent expensive lateral growth.
A rapidly expanding brand, ToeSox, Inc. has launched both their durable UltraSport Collection (toe socks without grip to be worn with shoes) and Five Toe Sandals that stylishly help align mistreated toes. As orders stream in, the company remains committed to their successful track record for satisfying consumer demand.
"Providing excellent customer service is a core value of ours, so we want orders shipped out accurately and efficiently," Snyder said. "It's vital that shipping and inventory logistics are seamless. The process of service and quality control are made possible by having an organized storage and shelving system in place."
ToeSox, Inc. tapped Conveyor & Storage Solutions, Inc. for a custom designed warehouse rack system to meet the particular needs of their location. Project manager Martin Olsen created a catwalk system that utilized the building's attractive height and facilitated more efficient shipping processes necessary for the ToeSox, Inc. commitment to rapidly expedited orders.
"With a product like ToeSox, Inc., where shipment processors need to handpick products from individual bins, it is much more efficient to add a catwalk level versus pushing around an industrial ladder to reach those upper levels," Olsen said. "The safety outweighs the cost."
Because ToeSox, Inc. and Conveyor & Storage Solutions, Inc. collaborated on a previous successful storage solutions design, groundwork was set for the company's next big step: an expanded catwalk with the capability to hold twice their original yoga accessories inventory.
Rapid expansion is not uncommon for yoga accessories businesses, although ToeSox, Inc. has been a positive case study in quality product design, eco-friendly packaging, effective marketing, and appealing corporate altruism. (ToeSox, Inc. has previously partnered with the Susan G. Komen 3 Day for the Cure Walk and Soles4Souls shoe charity.)
According to the Yoga Business Academy, consumer spending on yoga products has increased by 87% since 2007, creating a multibillion-dollar industry. In 2008, The Yoga Journal reported that consumers spent over $5.7 billion on yoga products. To compete in a tight, competitive market with a customer base interested in quality and sustainability, yoga businesses rely on effective storage infrastructures to effectively deliver products.
Conveyor & Storage Solutions, Inc., offers one-stop solutions for warehouse expansion and relocation services of pallet rack, industrial shelving, storage mezzanines, cantilever racking, order picking systems, catwalks, dock and warehouse equipment, and conveyor systems.