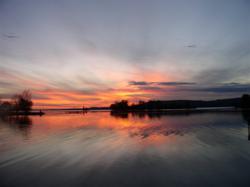 Huntsville, Alabama (PRWEB) November 29, 2012
Ocean Canyon Properties (OCP), a privately owned membership resort and RV park company, wrapped up their 11th annual Mountain Lakes Music festival a few weeks ago, after a week filled with music, dancing, and friends.
The music festival, which ran from Sunday, November 4th until Saturday, November 10th, was held at Ocean Canyon Properties' Mountain Lakes Resort in Langston, Alabama. The festival showcased local bluegrass musicians as well as bluegrass artists from the south. Bands that performed during the music festival included Backwoods Revival, Wills Valley Bluegrass, The Carrell Family, Dewey Wells and the Gary Waldrep Band, Bonnie Ridge Bluegrass, and Blackjack Ridge. The festival was attended by members of Mountain Lakes Resort and their guests. Included in the festival were picker's circles, where members and staff members of various experience and talent levels joined together to create music daily before and after the main acts. The festival also included a potluck dinner, a silent auction, and Wednesday night worship.
The fall colors were out in full force during the festival at Mountain Lakes Resort, which is situated on the eastern shore of Lake Guntersville in northern Alabama. The resort features many amenities for members to enjoy all year round, including several fishing piers and boat docks, an indoor and outdoor pool, and volleyball courts.
Ocean Canyon Properties' Executive Vice President Peter Graffman, who visited Mountain Lakes Resort during the festival, said, "The Mountain Lakes Resort Music Festival was a week full of great fun. The resort was alive with great bluegrass music from Mountain Lakes Resort members and great groups from around the region. We are very proud that Mountain Lakes Resort has hosted this event for 11 years running. We hope to have similar music festivals at our other resorts in the near future."
For information about Mountain Lakes Resort, visit them online at mountainlakesrvpark.com
About Ocean Canyon Properties
Ocean Canyon Properties is a growing system of eight privately owned, membership resorts that offer spacious RV campsites, comfortable vacation cabins, cottages and condos along with a wide variety of private resort amenities. With beautiful resort locations situated throughout the southern United States, OCP resorts provide the safe, secure and enjoyable recreational experience that so many families seek.
The Ocean Canyon Properties senior management has been directly involved in the membership camping resort industry on a national platform for over 30 years. This experience, combined with the rigorous standards of operation at both the resort and corporate levels ensure that the company operates securely, responsibly and continually provides the highest levels of service to its members, their guests and employees. Ocean Canyon is active in supporting community organizations that help children and families in the Southeast. You can find out more at their website at http://www.oceancanyon.com.