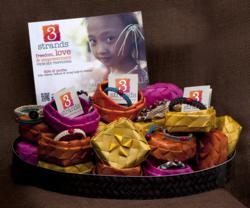 "One person can't do everything, but everyone can do something!" said Helena Cho, founder of Good Work(s) Make a Difference.
Los Angeles, CA (PRWEB) November 30, 2012
'Tis the season to give – and to give back. Here are three must have gifts that give back this holiday season and three companies making a difference in the lives of people around the world! 3Strands Global, Good Work(s) Make a Difference and Ton Savon are dedicated to giving back throughout the year - no matter the season!
3Strands Global
50% of profits from these bracelets which are handmade by young women in Cambodia who have been rescued from a life of sexual slavery is donated to partner organizations like Agape International Missions (AIM) that are working to help rescue, restore & bring hope to these young victims.
A small group from the Apricot Lane Boutique franchise traveled to Cambodia in April of 2012 determined to find a symbolic reference to represent these young women and their country of Cambodia. The discovery of seeds from the native Sandalwood tree were literally underfoot. From this litter of dry, colorless pods, the women select a fragile red seed to include in each bracelet they make. The natural beauty of this glossy, scarlet seed represents the beauty in each of the women who have been freed and empowered with a hope for the future. The three pieces of cord comprising the bracelet symbolize the freedom, love and empowerment these women experience, braided together and not easily broken.
Customers can purchase a 3Strands bracelet ($18) at http://www.3StrandsGlobal.com
Good Works Makes A Difference
Fashion with a purpose was the goal for Helena Cho, founder of Good Work(s) Make A Difference®. Her philosophy is that "one person can't do everything, but everyone can do something!" Good Work(s) Make a Difference introduces the new "Happily Ever After" ring ($68), an exceptional, delicately crafted piece that demands attention. In the spirit of Good Work(s), proceeds from the sale of one ring helps provide one holiday gift for a child living in foster care! Their signature wrap bracelets ($18) are also available this holiday season.
Los Angeles based Good Work(s) Make a Difference is a socially conscious accessories company created to promote lifestyles of optimism, goodwill, and compassion in order to elevate humanitarianism. By committing 25% of net profits to worthy causes the brand is devoted to making a positive impact on their surroundings with the goal to inspire individuals, families and communities one step at a time.
Good Work(s) Make a Difference products start at $18. Customers can purchase their gift at http://www.goodworksmakeadifference.com.
Ton Savon - French Soap Gift Sets
Ton Savon donates over $100,000 of soap throughout the year to deserving charities such as The Breast Cancer Society, AmeriCares, Habitat For Humanity and Vietnam Veterans of America.
Authentic French bath products and certified organic triple milled soaps from private label manufacturer Ton Savon are now available online for consumers looking for the most luxurious French brands at a great value for the holiday season. Made in a quaint village in Provence dating back to the end of the 11th century with fragrances from Grasse, France, the perfume capital of the world, Ton Savon created soaps that have been called "close to perfection."
A variety of scent selections are available in gift sets of three (Cadeau 3 Savons), complete with an elegant ribbon and gift tag. All Ton Savon soaps are free of SLS, BHT, parabens, and phthalates. Lines include:

Pure Provence - 100% natural, 83-86% USDA NOP certified organic soaps and are among the most natural found in the beauty market. $22
La Belle Vie – Natural, vegetable based triple-milled soaps crafted in Provence using only the finest ingredients. They are blended with Organic Shea butter and Sweet Almond Oil and include added extracts such as antioxidant rich White Tea, soothing Calendula, or nourishing Milk Proteins that leave the skin feeling soft and moisturized. $19
Savon et Cie - Blended using an age old process and enriched with moisturizing Shea Butter, this triple milled soap is a long-lasting bar that results in a luxurious, rich lather. $16
Customers can purchase Ton Savon gift sets starting at $16 at http://www.TonSavon.com
For hi res images, pricing and product for review, please contact Rachael Lange at Rachael(at)SGRPGroup(dot)com