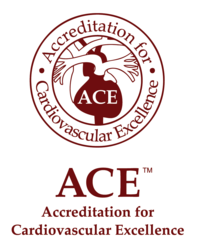 "If I can save the organization denials, ACE accreditation has paid for itself."
Carol Mascioli, Vice President Baptist Cardiac & Vascular Institute and Baptist Hospital of Miami.
Miami, FL (PRWEB) November 30, 2012
Baptist Health South Florida is leading the way by being the first hospital system in the United States to achieve ACE Accreditation. This accomplishment is a point of pride for the seven- hospital system, which includes Baptist Hospital of Miami and South Miami Hospital. ACE accreditation has provided a framework for collaborative sharing of knowledge between staff and interventionalists, across hospital departments and campuses system-wide.
"The ACE difference is that the ACE on-site clinician team reviews documentation and cases to give an ongoing external perspective that really engaged our physicians across both cath labs in our system to mutually focus us on vital quality indicators," said Carol Mascioli, Vice President Baptist Cardiac & Vascular Institute and Baptist Hospital of Miami.
Carol Biggs, Vice President, South Miami Heart Center, agreed; "One example of the quality benefits we received from working with ACE was standardizing radiation dosage. This documentation bridges life-time cumulative radiation dose for every patient across our entire organization, supporting an umbrella policy of comprehensive care." Since the data demonstrate higher local and regional performance, this positions Baptist Health to benefit from pay-for-performance methodology.
The certification awarded by ACE means that the highest quality standards for cardiovascular and endovascular care are met by doctors and staff caring for patients undergoing diagnostic and interventional catheterization procedures. Ms. Mascioli and Ms. Biggs agree that "ACE has given Baptist Health South Florida something to be proud of – achieving and maintaining the highest standards in our cardiac cath labs – which ultimately benefits our patients."
Baptist Health South Florida is one of America's preeminent healthcare institutions. Headquartered in Coral Gables, Florida, Baptist Health is a $3.6 billion not-for-profit organization composed of seven hospitals and more than 30 outpatient facilities. Baptist Health South Florida is ranked among the best hospital systems in the nation, according to data from the U.S. government. For more information, visit BaptistHealth.net.
ACE is an independent, non-profit organization formed from SCAI and the ACCF in 2009. The website is: http://www.cvexcel.org/default.aspx