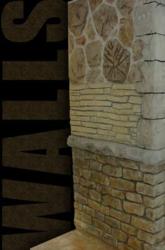 Oklahoma City, Oklahoma (PRWEB) November 30, 2012
Vertical concrete systems make it possible to create stunning custom surfaces on walls, pillars, gates, fountains and more. The technologically advanced, lightweight vertical concrete mix is specially designed to for high strength vertical applications.
In The Stamp Store's two-day, hands-on training for contractors, participants will learn the many and varied uses of the SS Vertical Mix, and how to prep, reinforce, apply, stamp, carve and color vertical concrete to create rock features, waterfalls, interior and exterior walls, fences and fireplaces.
The SS Vertical Concrete Mix is extremely versatile; it can be used in commercial, residential, interior or exterior applications, and expands the traditional uses of decorative concrete, allowing new ideas and visions to be easily translated into reality.
Learn from decorative concrete industry experts at The Stamp Store, and attract and impress future clients with these innovative vertical concrete techniques.
Stamped and Carved Vertical Concrete Contractor Training
May 16-17 & September 19-20
8:00 am - 4:30 pm
Price: $450 until April 16 or August 19 (depending upon the class date), $525 thereafter.
Keep up to date on the latest training dates and contractor appreciation days by visiting The Stamp Store online. The Stamp Store also stocks a wide variety of decorative concrete products in Oklahoma City, available at the warehouse or nationwide via online purchases.