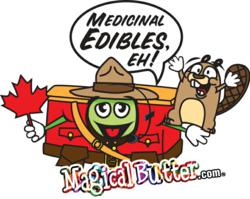 MagicalButter.com Rocks Canada's Socks!
Seattle (PRWEB) November 30, 2012
MagicalButter.com® and HBI Canada today announced an exclusive partnership that provides distribution throughout all of Canada. MagicalButter.com® Customers will be able to see, feel and touch the device for the first time in Canada. Features of the device distributed by HBI Canada will be the same as on those sold directly through the MagicalButter.com Store. The device will make its debut in Canada on December 10, 2012.
"Getting distribution to our allies up North was a top priority and the distribution channels that HBI Canada already has in place is a great way for retailers to offer our innovative product," said Mr. Butter. "It's great that Canadians will be able to have the gift for someone who has everything of 2012 in time for the holiday season. We always knew we had a product that would go viral. We just did not expect it this quickly. We think this is very cool."
"With this partnership, we're bringing HBI Canada's leadership in wholesale distribution together with not only our retail footprint, but the unique MagicalButter.com experience in herbal cooking, to offer customers a world-class eat to treat experience," said Mr. Butter. "Distribution to Canada is a natural extension of our strategy which only enhances the retail experience for customers by helping them discover and acquire this new groundbreaking invention instantly."
After its International debut in Canada, the MagicalButter device will continue its International rollout to over 12 countries in the next 6 months. The San Francisco Bay area was the first area in the country to receive retail distribution. Since then the launch of the product into retail shops is sweeping the nation.
With MagicalButter's legendary ease of use, pioneering features such as the ability to grind in your cooking medium, integrated LED status lights, a foolproof timer, seamless integration with all of your existing recipes and a digital thermostat. The MagicalButter device is the best way for end users to discover how to eat-to-treat using medicinal edibles. Herbs are the earth's natural medicine and are underutilized by society.
MagicalButter continues to lead the industry in innovation with its award-winning herbal butter and oil device and amazing customer service. MagicalButter.com is becoming the go to website for the best herbal recipes.
MagicalButter.com provides an uplifting experience that enriches people's lives one moment, one human being, one extraordinary meal at a time. To share in the experience, visit http://www.MagicalButter.com.