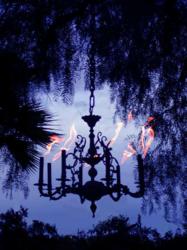 "Pictures cannot do it justice! It may be the most decadent piece of art I have ever purchased!"
Sylva Scar Hattington
San Diego, California (PRWEB) November 30, 2012
Fire Garden Metalworks, a local designer and fabricator of artistic metal fire sculptures, garden art and furnishings announces the release of their Rennaisance line of propane powered Fire Chandeliers. Antique Spanish chandeliers,once electrified, transformed to burn propane,add ambiance,drama and warmth.
The presence of a fire chandelier lighting any space that is able to support one, instantly draws the observer to the area to bask in its warmth and watch the flames play against the breeze.The chandeliers are also being sold to indoor buyers as well like Sylva Scar Hattington,owner of Pillar Box Studios In Los Angeles California. Sylva has this to say about her chandelier:
"I had seen one of Tonys chandeliers at an event and I was instantly captivated by the magnificent, elegant glow of the fire dancing in the garden and on the faces of everyone present. It adds a most magnificent, enchanted glow and an unforgettable ambiance. When I finally approached Tony about purchasing one, he was incredible attentive to answering all my questions. I visited The Fire Garden and was able to easily pin point the one I wanted, which is a beautiful antique brass chandelier with 8 flames and crystals. Tony drove the piece up to my photo studio in Los Angeles, I showed him where I wanted it and he hung it,paying attention to every detail,and gave instructions on how to use it. I am so so so in love with my chandelier, it immediately changes the entire environment when I light it up, turning my studio into a sumptuous sexy environment. Everyone who sees it is instantly in awe!
Pictures cannot do it justice! It may be the most decadent piece of art I have ever purchased!"
Fire Garden Metalworks has been building and designing functional artwork and furnishings for custom homes and and designers in the San Diego area for 15 years. Owner Tony D'Aula takes pride in providing original pieces and working with the homeowner/designer to achieve the most dramatic effect.
For more information on Fire Chandeliers or custom work contact The Fire Garden directly at (760) 717-8273 or http://www.firegardenmetalworks.com