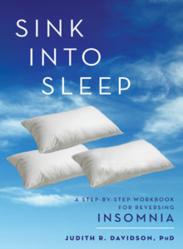 Sink Into Sleep is an invaluable resource for anyone with sleep difficulties … and for therapists treating them."—Charles M. Morin, PhD, Professor of Psychology, Université Laval, Quebec
New York, NY (PRWEB) November 29, 2012
Based on decades of research, it is now known that the most effective program for the reversal of chronic insomnia is called "Cognitive Behavioral Therapy for Insomnia" or CBT-I. However, this treatment is rarely available to the general public as CBT-I is usually only offered by specially-trained psychologists or as part of research studies. People using CBTI report improved sleep, often in as little as 2-3 weeks and maintain good sleep for years.
Sink into Sleep breaks CBT-I down into a step-by-step, easy format, allowing the reader to follow the same effective program that patients in the clinic do. Although Sink into Sleep is anchored in the science of sleep, the tone of the writing is reassuring and encouraging filled with first person accounts and easy to use worksheets.
In 2007, Demos Medical Publishing launched Demos Health, a new imprint for our growing list of health and wellness titles for consumers. This imprint furthers our company mission to bridge the gap between consumers and the healthcare community, and solidifies Demos's position among the leaders in health care publishing.